Smoky Mountain

Christian Retreats
Christian Retreats - The Perfect Way To Wind Down!
Christian Retreats naturally go hand in hand with the Great Smoky Mountains.  There are several places here in the Smoky Mountains who cater specifically to those who love the Lord and yearn to do His will.
| | |
| --- | --- |
| |  Being surrounding by God's magnificent creation is a wonderful way to see His beauty and feel His presence!  |
CAMP SMOKY CHRISTIAN RETREAT
One of the best things to do for yourself is to renew the mind, body, and soul!  It's what Camp Smoky Christian Retreat is all about! Accommodations are excellent here!  For larger groups, there is a choice of buildings for sleeping with all the amenities!   Draw closer to God inside their roomy conference areas, and when you're ready for a break, there's plenty to do in the on-campus game room. Enjoy eating inside their nice dining area complete with Wi-fi, or feel the closeness of God surrounded by His awesome creation with an outdoor picnic.  Your retreat is sure to be an awesome time of rejoicing in the Lord at Camp Smoky Christian Retreat!
EDEN CREST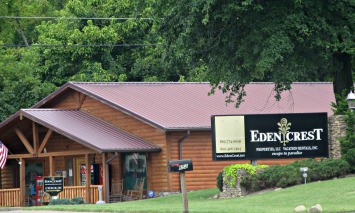 Being surrounded by His awesome creation is such a wonderful way to celebrate Jesus!  Eden Crest is an excellent choice for your Christian retreat!  The Location is perfect because it is surrounded by the many things to do in the area.  Your group can enjoy attending local church services, area family, and christian based area attractions, or you may choose to glorify His holy name inside the Great Smoky Mountains National park. Let Eden Crest help you to provide the perfect Smoky Mountain Christian get-away!   
TUCKALEECHEE RETREAT CENTER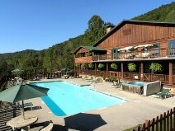 Tuckaleechee Christian Retreat is a Christian resort nestled near the Great Smoky Mountains in Townsend, TN.
This retreat center is filled with wonderful fellowship experiences!  There are various cabin sizes, beautiful mountain views, and more.
 It's a beautiful place to grow closer to Christ,  accept Him as Savior and Lord, or rededicate your life.  For Church groups, Youth retreats, Seminars, Family Reunions, and more, choose Tuckleechee Retreat Center!  
SMOKY MOUNTAIN CHRISTIAN CAMP
It's the perfect place to come to learn more about the inspired word of God - the Bible.  Smoky Mountain Christian Camp provides churches, mission groups, and organizations a summer camp program designed to challenge Christian growth, and glorify God. Become more spiritually educated, and participate in uplifting services that offer a tremendous worship experience. Attend Smoky Mountain Christian Camp and let God do amazing things in your life. It's one of the Smoky Mountain's best Christian retreats!
SMOKY MOUNTAIN CHRISTIAN VILLAGE
The spirit of the Lord is alive in this secluded area of Pigeon Forge, TN. Christian families, and groups, large, or small will enjoy the serenity of the mountains and the sacred atmosphere the Smoky Mountain Christian Village has to offer.  This beautiful Christian retreat offers  44-acre of wooded campus houses and roomy chalets to accommodate most any size group. They have a pastor on staff, communion services and prayer, and large dining areas to accommodate small groups. Enjoy paint ball, basket-ball, swimming, and hiking. Share the love of God in a mighty way! It's all waiting for you at the best in Christian retreats - the Smoky Mountain Christian Village.  
| | |
| --- | --- |
| | Worshiping God has been a tradition in the Great Smoky Mountains for years.. |
 It's the perfect place to have a Christian retreat!  Area churches await with open doors to welcome you!  Area theaters bring the joy of the Lord alive in their music!  Area Christian-based attractions are excited about sharing the love of Jesus!  Serving God and those who desire to worship Him are what these excellent Christian camps and retreats are about. Their desire is to bring the glory of God to you in the mountains.
Choosing to place God first changes our lives for the better.  When we read His word, seek His face, and do His will, our mind, body, and soul comes together creating in us a being; a living vessel that does wonders in the eyes of the almighty God. It's where we begin to hear the music of our own harmonious Heartsong!     
Christian Retreats Top Of The Page