Dukes of Hazzard 
"Smoky Mountain Style"
A Dukes of Hazzard cast member sighting is always a possibility here in the Smoky Mountains!  Every once in awhile the famous General Lee is spotted going down the highway blowing its "Dixie" horn.
COOTER'S PLACE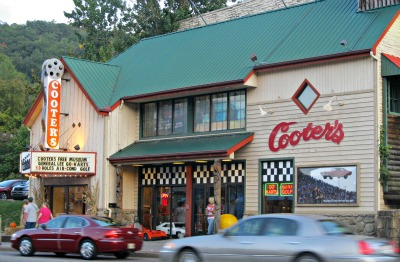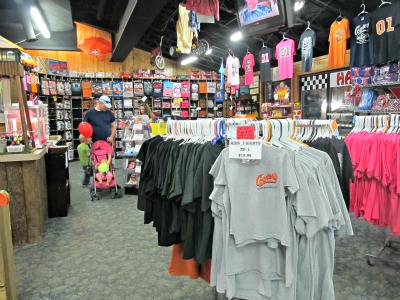 A "must see" for every fan is Cooter's Place in Gatlinburg!  Ben Jones who played the character of "Crazy Cooter" really does own the place! If you're really lucky, you might even see him here!  I've met him, and I must say he's really a great guy! Cooter's Place is the kind of hang-out where you bring the whole family and have a ball. It's about racing General Lee Go Carts on an indoor slick track good for 40 laps. These racers can move up to 23 mph!  There's an indoor mini golf course, and lots of Collector's Paraphernalia for sale.
 Cooter's Place is an excellent spot for school retreats!  Celebrate a birthday!   Groups are always welcome!  There are even vacation packages available.  For more information, or to make reservations, call Cooter's Place at (865) 430-9909.
THE DUKES OF HAZZARD DINNER SHOW
"HAZZARD COUNTY HOEDOWN"
THIS MAJESTIC THEATER

DINNER SHOW

FEATURES THE DUKES LIVE ONSTAGE ALONG WITH A DELICIOUS SOUTHERN-COOKED MEAL!
 The classic TV show that's entertained audiences for years is now live onstage in the Smoky Mountains!   The show appears at the Majestic Theater in Pigeon Forge. The gang's all here and includes  Bo, Luke, Daisy, Boss Hog, Roscoe, and his sidekick Flash.  This crew entertains with lots of singing and dancing!  And to go along with all this excitement there's lots of good ole down-home country cooking!
This fabulous dinner theater's talented cast brings the show to life adding plenty of fun and excitement! Roll with laughter as you watch one of the best theater performances in town and enjoy a delicious country-style buffet.  Boss Hogg manages to steal the show with those same "old" antics, of course, along with Rosco whose going after the Dukes as never before!   It's one thrilling adventure after another as you experience this TV show turned into a live theater production!  It's a real "Yee-Haa" adventure that has you laughing from beginning to end!
For more information about this awesome show, or to order tickets CLICK HERE!
What are you waiting for? C'mon!  Put some "yee-Hah" in your vacation and spend a day with the Dukes of Hazzard…SMOKY MOUNTAIN STYLE!