Dollywood 
Grand Opening 2013
It's the most exciting time of the year!   It's time for the grand opening of  Dollywood and Dolly's Splash Country!  These parks are coming alive once again with more thrills and action than ever before!  Dolly says it best here, so I'm gonna let her talk!  Hold on to your hat!  2013 is sure to be one awesome season!!!  
Wow!!  Kinda takes your breath away, don't it???  It'a all here and waiting for you!  Coming to the Grand Opening ceremonies keeps you "in the know" with everything that's happening!
I've been going for years, and I must say it gets bigger and better every single year!  Dolly Parton is always a major part of the ceremonies! If you've wanted to see Dolly, but never had the chance, Grand Opening is the time to come!  Everyone gets excited as she rides through the park waving at fans, or surprises audiences by appearing onstage during the park's award-winning shows!
| | |
| --- | --- |
| | It's Dolly who reveals all the latest happenings!  For 2013, it's five new shows!  Since Dollywood has the knack for producing award-winning theater, you can believe 2013 is revealing top-quality family entertainment! |
MY PEOPLE - DOLLY'S LETTER HOME -May 10, 2013 - January 4, 2014
 It's a celebration of the Parton Family!  Dolly put her family to work in this one!  Her sister, Cassie is introduced as a first-time performer to the park!  Brother Randy is back... bigger, and better than ever!  From beginning to end, Dolly's family has been instrumental in her successful career.  It's because of their love, prayer, encouragement, and strong faith that Dolly has been able to achieve her goals.  Randy, Cassie, and several other family members sing and share their story in this unique, but outstanding performance. 
CIRQUE SHANGHAI - March 23 - April 22, 2013
You'll be on the edge of your seat as Chinese acrobats perform "heart-stopping" feats!  Their astounding antics are sure  to take your breath away!  Daring young men and women in colorful costumes combine traditional and modern acrobatics in this fascinating production.  Be amazed by their awesome show of strength and balance! Thrill in a circus-like atmosphere filled with daring stunts as never before seen! Their fast-paced contemporary dance will have you rocking in your seat!  Critics say this show is "amazing to the extreme!"  Come see for yourself! I'm sure you'll agree!
GREAT AMERICAN COUNTRY SHOW - May 11 - October 26, 2013
Dollywood and GACTV come together to bring you one of the best Country Shows the Great Smoky Mountains has ever seen! Enjoy 40 minutes of fabulous country music! Gigantic video screens, a live band, and high-energy performers will have you rocking with fabulous top-notch tunes!  Some of GAC's most famous personalities will be on-the-scene with incredible action! Keep your eyes peeled for special guest artists!  This show is about what country fans embrace most...country music & American pride!  
MYSTIC INDIA - March 23 - April 22, 2013
The country of India comes to life through dance, theater  and amazing visual effects!  This production features 25 professional dancers performing  the ancient to modern India approach in an atmosphere of full color! Compelling music from Bollywood Cinema is featured along with incredible costumes!  Forty designers and workers from India's capitol worked a full year before debuting this incredible show in Dollywood for the 2013 season.  
DOLLYWOOD'S A CHRISTMAS CAROL - November 9, 2013 - Jan 4, 2014
The Charles Dickens classic comes to the stage of Dollywood!  This musical setting is brought to life by beautiful Victorian-style costumes as it tells once again the famous aspiration and deliverance story. Enjoy 45 minutes of exciting entertainment that brings about seven brand new songs written by Dolly Parton herself! And for the first time in Dollywood, Dolly appears onstage as the Ghost of Christmas Past through holographic technology! It's A Christmas Carol as you never seen before! It's Dollywood's Christmas Carol...A "Classic" tale with a "Dolly Parton twist!!"    
Dollywood's grand opening moves to Dolly's Splash Country with the dedication of the new water coaster, the River Rush!  New for 2013, this exciting coaster  lives up to it's name with lots of hills, thrills, and plenty of "splash spills!"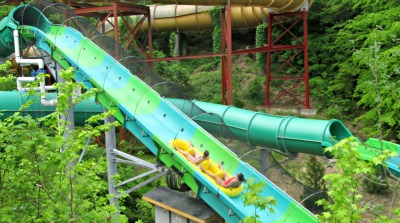 Everybody has a fun when Dolly comes to town!  That's because she's a "fun girl!"  Always full of giggles, and a quick "comeback" in most every conversation!  She's always got a great story to tell!  As a matter of fact, have you ever wondered how Dolly's Splash Country came to be???  I'll let Dolly tell ya!
DOLLY PARTON HOMECOMING PARADE
It's Sevier County's "grandest" parade of the year!  It's because it's usually around the grand opening and Dolly serves as Grand Marshall!  Because the cool new water coaster made it's debut for 2013, Dolly glided down the street in a huge float, accompanied by other family members, with "River Rush" written on the side!  Dolly looked extra "sporty" in her lifeguard attire, and raft earrings.  
Dollywood Grand Opening 2013 brings "Grand" excitement for the summer!  June 22 through August 4th is the Great American Summer....and "great" it shall be.  That's because the park is extending its operating hours from 10:00 A.M. until 10:00 P.M. daily which means you'll be able to ride all those cool roller coasters, and fast-action rides after dark!
As the night unfolds, the Dollywood skies light up with 'Dolly's Night of Many Colors!"  This state-of-the-art fireworks display is synchronized to music and features a musical crescendo written by our own Dolly Parton specifically for this occasion!  It's called "Paint Your Dreams Across The Sky!  
| | |
| --- | --- |
| | Dollywood's Grand Opening...It's what dreams are made of!  Live the fantasy that happens every year by coming to this action-packed event! Be one of the first to experience all the latest happenings! Wave at Dolly as she rides through the park waving and smiling! Live the adventure that is DOLLYWOOD!  It's one of the Great Smoky Mountains most exciting ventures!! |
Visiting new places, and experiencing new things stands among life's greatest joys! God delights in the gladness of our hearts!  As you share a wonderful time with special friends, and loving families, keep in mind the significant joy that God gives! The happy heart celebrates with a lasting joy that is felt deep within the heart!  It's  the kind of joy that writes upon our hearts a lovely verse and plays a beautiful tune within our own personal heartsong!
Dollywood Grand Opening Top of the Page
Smoky Mountain Heartsong Home Page