Dollywood 
Grand Opening 2014
Goodness gracious!  Great Balls of Fire!!   It's time for the grand opening of  Dollywood!  Leading the way for the 2014 opening season is our own Dolly Parton!  The crowds rockin' while the new Fire Chaser coaster was rollin' and we all "got down" to this hit legendary song!  
Dollywood is alive once again with thrills and action-packed excitement as never before!  Seems this awesome event becomes bigger and better every single year!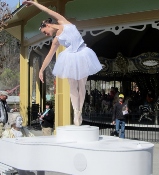 BRAND NEW FOR 2014...
FIRE CHASER EXPRESS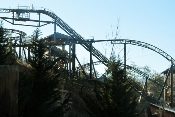 Bring the kids and "have a ball!"  This family-oriented ride takes you blasting both forward, and backwards!  Travel from zero to 16 mph in 1.1 second!  Lasting 2 minutes and 19 seconds, this "fast-moving" train propels through a "trick track" section twisting from side to side.  You'll encounter two helices and six zero-gravity moments.  Minimum height to ride Fire Chaser Express is 39 inches!  The entire family will have a blast as you climb aboard for a thrilling adventure to save the Smokies from potential fire hazards by way of the Fire Chaser Express!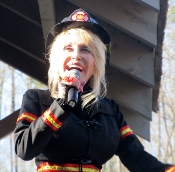 Dolly Parton is always a major part of the Grand Opening ceremonies!  If you've wanted to see Dolly, but never had the chance, Grand Opening is the time to come!
| | |
| --- | --- |
| | It's Dolly who reveals all the latest happenings!  For 2014, it's plenty of food, festivals, and fun!  |
FESTIVAL OF NATIONS - March 22-April 21
Cultures from around the world come together in Dollywood for this unique festival! Several countries are represented with demonstrations of music, dance, food, and art.  Experience how those in other countries live while enjoying with delightful event! 
BARBEQUE & BLUEGRASS - MAY 24-JUNE 8
The best barbeque in the south, and the biggest names in bluegrass  come together for some good eatin' an  d foot-stompin' fun!  Free concerts are happening daily! Chow down on tangy ribs, pulled pork, barbecued chicken, smoked sausage and more!  It's the ultimate family picnic!  And it's all here in Dollywood! You're sure to love this one!
GREAT AMERICAN SUMMER - June 13 - August 3
Dollywood Grand Opening 2014 brings "Grand" excitement for the summer!  June 13 through August 3th is the Great American Summer....and "great" it shall be.  That's because the park is extending its operating hours from 10:00 A.M. until 10:00 P.M. daily, which means you'll be able to ride all those cool roller coasters, and fast-action rides after dark!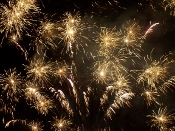 As the night unfolds, the Dollywood skies light up with 'Dolly's Night of Many Colors!"  This state-of-the-art fireworks display is synchronized to music and features a musical crescendo written by our own Dolly Parton specifically for this occasion!  It's called "Paint Your Dreams Across The Sky!  
 Operating hours are extended to give you more time to play, watch fireworks, and enjoy everything Dollywood has to offer!  The park is open from 10:00 A.M. until 10:00 P.M.  
HARVEST FESTIVAL - SEPTEMBER 22- NOVEMBER 1
It's a colorful festival that features the National Southern Gospel Celebration presented by Humana.  Autumn colors burst forth throughout the park!  Beautiful Southern Gospel music echoes the sounds of praise to our Lord with free concerts!  Craftsmen come from all over with interesting demonstrations, and beautiful crafts and artwork for sale.  
SMOKY MOUNTAIN CHRISTMAS - November 8 - January 3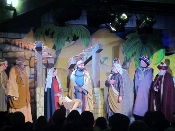 A Smoky Mountain Christmas in Dollywood!  It's the perfect place to celebrate the birth of Jesus!  The nativity is magnificently brought to life onstage as the beautiful story of the Bible unfolds.  Be surrounded by over four million twinkling lights!  Enjoy spectacular holiday performances! It's where Dolly Parton is brought to life through hologram technology. It's the place where Christmas truly lives!  
DOLLY PARTON HOMECOMING PARADE
It's Sevier County's "grandest" parade of the year!  It's because it's usually in the spring, and Dolly serves as Grand Marshall!  Mark your calendar for the May 2nd event!  The parade will begin at 6:00 P.M.  Over 50,000 spectators will align the streets to see Dolly, and the rest of this spectacular event.  
| | |
| --- | --- |
| | Dollywood's Grand Opening...It's what dreams are made of!  Live the fantasy that happens every year by coming to this action-packed event! Be one of the first to experience  the latest happenings!  |