SHOWTIME IN THE SMOKIES
It's always "SHOWTIME" here in the Great Smoky Mountains!  The family will enjoy an incredible night of entertainment and fun as you enjoy some of the most exciting theatrical productions the area has to offer!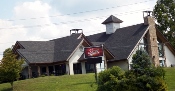 If you remember the comedy of Red Skelton, you'll love this show!  If you don't, you'll love it even more.  It's pure clean comedy mixed with good family fun!  Brian Hoffman is the man behind this tribute bringing back all those hilarious skits Red made famous during the golden years of television!  This new theater also hosts a children's magic show, Elvis impersonator Matt Dollar, and much more!  
Sweet Fanny Adams is truly the "best" show in Gatlinburg!  This small theater is home to some of the biggest talent in the Smokies!  The stage is beautifully adorned with tiny show lights.  Multi-talented performers play their roles to perfection with lots of singing, dancing, and plenty of great comedy!  

 When the show is over, the whole cast comes outside to meet their audience and pose for photos!   Those Gatlinburg nights are filled with excitement when you include a trip to the Sweet Fanny Adams Theater!   You become mesmerized as you anticipate what will happen next!   Audience participation makes the show even more hilarious!   Colorful costumes, and excellent story lines will keep you in suspense from beginning to end!   I was impressed with the high level of creativity associated with the Sweet Fanny Adams show.  (And the popcorn ain't bad either!) 

SHOWTIME IS THE PERFECT TIME FOR CREATING  MEMORIES!
Showtime in the Smokies always means an exciting, fun time for you and your family!  There are lots of family theater entertainment waiting for you as you get ready for thrilling shows.....
When night falls over the great smokies....that only means one thing.....IT'S SHOWTIME!