SMOKY MOUNTAIN VACATION TRAVEL TIP
A TRAVEL TIP OR TWO JUST FOR YOU!
TRAVEL TIP #1 - PREPARE FOR TRAFFIC
There's lots of action in the Great Smoky Mountains most all the time!  From car shows, special events, and holiday parades, you can expect a big turnout for most everything coming and going!  This means traffic delays and long periods of waiting.  It may be a good idea to pack bottled water and snacks just in case you end up getting stuck longer than expected.
To avoid traffic, you may want to plan your trip around the events schedule.
It's mandatory!  And it's a good idea!  As I always say, "better safe than sorry!"  It is required by law that all passengers wear a seat belt!  Children from infancy to 12 years old must be strapped in a child safety seat, and ride in the back seat.  Strap pets in pet seat belts , or carrier while traveling.
TRAVEL TIP #3 - BRINGING YOUR "FURRY" FRIEND ALONG
Bring your pet on vacation can be lots of fun, but there's some guidelines you must follow!  Be sure your pet has had all vaccinations, and carry proof of these.   Make sure your pet has a micro-chip, or tag with complete information including your pet's name, your name, address, and phone number.  Add a travel tag to your pet's collar with information on where you're staying so if your pet becomes lost, it can be returned to you.  Pack plenty of food and water for your pet, and make sure treats are available during the trip. Schedule stops for yourself and for your pet so you can stretch your legs and take necessary breaks.
Pet friendly hotel/motel accommodations are available on most every corner!  It's a good idea to call prior to your stay regarding specific pet policies.
TRAVEL TIP #5 - SMOKING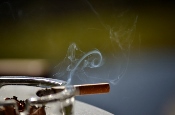 The Tennessee Non-Smokers Protection Act prohibits smoking in all enclosed public places in the state of Tennessee.  If you feel the need to smoke, there are designated smoking areas available in most places, including malls, hotels, restaurants, etc...however, these are usually located outside, or in an open areas. 
Now that you're all "tipped-up" it's time to begin your Smoky Mountain vacation!   Drive safely and obey all traffic rules.  Take your time!  Don't drink and drive!  And most of all, take any and all precautions, and arrive safely!!   Ya'll come....we'll be a-lookin' fer ya, and we'll see ya when ya git here!