MALIA LANE
 Full Time RVer
Skilled Photographer
I'll always remember the day I met Malia Lane.  In 2014 I was attending  Dollywood's Grand Opening ceremonies inside the Dollywood theme park.
| | |
| --- | --- |
| Photo Courtesy: Malia Lane | Photo Courtesy: Malia Lane |
Media from all over the country had gathered. We were waiting for Dolly Parton to appear onstage with information about her new Dreammore Hotel that was scheduled to open in the spring of 2015.
  TV crews had aligned the back of the theater where the event was to be held.   Pads and pens were in hand, recorders were rolling, and cameras were ready to flash!   The festivities were scheduled to begin in five minutes!
My recorder was on and the camera was loaded!   Everything was "sitting on go" when I overheard a female voice behind me mention her camera's battery was dead, and her backup was in the car. I heard another voice before the same voice came back, this time in disappointment saying, "It's too late!  I can't do anything about it now."  Moments later the crowds roared, as camera flashes soared!  The curtain opened and Dolly Parton appeared live onstage! 
I felt sorry for the lady behind me because I could relate to what was happening.  As an entertainment reporter, I had been in situations where my recorder didn't work, where I had forgotten film/sd card, or my batteries had died.  However, on this day I did have extra AA's and I was glad to share,    until she told me her camera took only lithium batteries. 
After the press conference,  I apologized for not being able to help. She just smiled, gave me her business card and introduced herself.  She asked if I would mind sharing my photos of Dolly with her.  I was happy to oblige!  
Photo Courtesy: Malia Lane
MALIA TOURS THE COUNTRY IN HER RV
As we talked, she told me she was a full time RVer.  I didn't  realize what that meant until I checked out her blog, "Malia's Miles."  It's here that I began to read about great landmarks in the Smoky Mountains I'd never encountered myself, and see other exciting places in the country I'd like to someday visit!  She also has posted some of the most beautiful photographs I've ever seen!
| | |
| --- | --- |
| PHOTO COURTESY: MALIA LANE | Photo Courtesy: Malia Lane |
I learned that she travels across the country in an RV visiting great landmarks, meeting new people, taking photos, and then blogging about her wonderful experiences!  She's been living her dream since 2001!  When I offered her the batteries that day, I had no idea God was in the process of answering a prayer and blessing me with a special friend at the same time!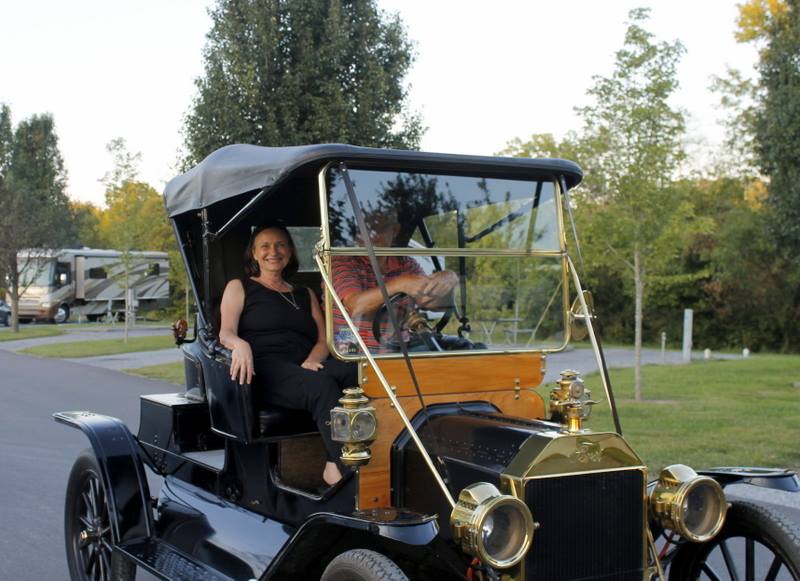 Photo Courtesy: Malia Lane
Malia has since moved on.  And though she's traveled the United States over and experienced most every major attraction there is to explore, she found it hard to leave these mountains when it was time to go!  

PHOTO COURTESY: MALIA LANE
With sad goodbyes and the promise of a return someday, she left something for us to be enjoyed, and cherished forever! 
| | | |
| --- | --- | --- |
| Photo Courtesy: Malia Lane | Photo Courtesy: Malia Lane | Photo Courtesy: Malia Lane |
Photo Courtesy: Malia Lane
 If you are into RVing, or thinking about extensive travel, connect with Malia Lane through her blog - Malia's Miles!   It truly is amazing to read about the many exciting places she's been and the great adventures she's encountered.  You'll enjoy even more of her fine photography and see the wonders of America through her blog!  Visit Malia's Miles and travel across this great nation of ours through the eyes of Malia! 

Those beautiful photographs she has taken in, and around the Great Smoky Mountains still remain!  I'm blessed to to be able to share these photographs with you throughout the pages of Smoky Mountain Heartsong.com!  We will be able to enjoy this RVer/photographer's amazing works of art for years to come!  
Jun 16, 18 02:20 PM

Be spirtually blessed and entertained as you enjoy Christian drama in the Smokies

Jun 08, 18 05:52 PM

Action Packed Pigeon Forge Attractions, and Shows

Jun 08, 18 05:12 PM

Smoky Mountain Heartsong is A Christian-based site connecting the beauty of God's creation of the Smokies with things to see and do in the area.