PET HALLOWEEN COSTUMES IDEAS
AND
TIPS ON SAFETY
Pet Halloween costumes add loads of fun to this popular time of the year  You might say it's a holiday that's "gone to the dogs!" (and cats!)  Lots of pet stores and department stores now carry Halloween pet costumes that will make your pet the "star" of the show!  
SAFETY TIPS TO KEEP IN MIND

AND 
 PET HALLOWEEN COSTUMES IDEAS
Before dressing your pet for it's big night out on the town, there are some things you need to keep in mind.  Dressing your pet in a Halloween costume and taking it with you can be a real "treat" within itself, however, you must make it a safe venture for the both of you!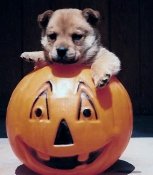 1.  MAKE SURE YOUR  HALLOWEEN PET COSTUME FITS.
Shopping for the right costume is exciting!  Sure you want your pet to be the cutest goblin out there, however, the outfit needs to fit comfortably for your pet to enjoy the evening.  
2. ALLOW YOUR PET TO WEAR THE COSTUME BEFOREHAND .
Let your pet wear its outfit a couple hours a day for about two or three days beforehand, so when the big night arrives, it will be used to it.  Remember pets aren't used to wearing clothes on a regular basis so they need time to get used to the idea.  If your pet refuses to wear the outfit don't push it!  Doing so can cause upset, and stress in your pet.
3.  DRESS YOUR PET SO THAT IT DOESN'T BECOME FRUSTRATED.
Adding lose items such as beads, or floppy hats can be irritating to your pet.  Don't add anything that can choke the animal, or cause it to trip.  If you add ribbons or bows to your pet Halloween costume, make sure these add-ons fit properly and are not attached in a way that causes pain to the animal.  At all times the animal must be free to eat, drink, and go to the restroom freely as needed.
4.  ADD A REFLECTOR TO YOUR PET HALLOWEEN COSTUME.
A reflector will help others to see your pet.  This will prevent others from stepping on, or tripping over your pet..  It will also help oncoming vehicles to spot the animal in the dark.  
5.  KEEP YOUR PET ON A LEASH AT ALL TIMES.
This is most important in keeping your pet safe and with you at all times.  Also be sure your pet has a collar with it's name and address, or a chip.  If it ends up being lost, this information can bring your pet back to you quickly and safely.
PET MD has an adorable little slide show that gives you ten good reasons to dress your pet!   Be safe, be happy, and have loads of fun dressing your pet in his/her favorite pet Halloween costume!
Jun 16, 18 02:20 PM

Be spirtually blessed and entertained as you enjoy Christian drama in the Smokies

Jun 08, 18 05:52 PM

Action Packed Pigeon Forge Attractions, and Shows

Jun 08, 18 05:12 PM

Smoky Mountain Heartsong is A Christian-based site connecting the beauty of God's creation of the Smokies with things to see and do in the area.