SMOKY MOUNTAINS
SCHEDULE OF EVENTS 2019
This Schedule of Events page is filled with lots of things to see and do while you're visiting the Great Smoky Mountains National Park area!  Every season is filled with great shows, colorful festivals, christian, country, and rock concerts, and more!  Most events listed on this page are FREE!  So, go ahead!  Plan to join the fun and have a blast with all the exciting events offered year around in the Smokies!
The Great Smoky Mountains area has an excellent Schedule of Events to keep you busy year around!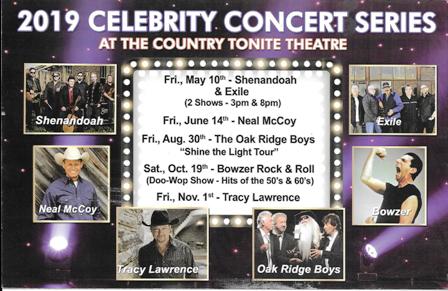 Grab your hat and prepare to do a little "boot-scootin" as the 2019 Celebrity Series comes back to the Country Concert Series!  2019 is going to be the best year ever with music from Shenandoah, Exile, Neal McCoy, Bowzer, Tracy Lawrence, and the Oak Ridge Boys!  Tickets go on sale March 19th at 9:00 A.M.  Order tickets by calling 865-453-2003!  Your concert ticket entitles you the opportunity to see the Country Tonite Show at half-price!  All concert ticket sales are final!  The Country Tonite Theater is wheelchair  accessible.  It's located at 129 Showplace Blve, Pigeon Forge, TN.    
| | |
| --- | --- |
| | The Resurrection Youth Conference comes to Pigeon Forge January 25-27, 2019!  After meeting in Gatlinburg for thirty years, it was decided to move this conference to the LeConte Center in Pigeon Forge.  As a result of the move, the entire event will happen all in one weekend and offer double sessions.   Benefits with this move include better seating, free parking,  indoor waiting, everything on one level, and more.   For more information contact Laura McLean by e-mail at lauramclean@holston.or, or call 865) 293-4151. |
| | |
| --- | --- |
| | Thousands of young people flock to Pigeon Forge annually for the Challenge Youth Conference at the LeConte Convention Center.  This Christian event is geared toward children grades  9 through 12.  It empowers teens and encourages them to live for Christ.   Mark your calendar for February 23-25, 2018 for this exciting time in our Lord! |
| | |
| --- | --- |
| | The Strength to Stand Student Bible Conferences are for students who want to be "sold out" for Jesus Christ.  It's an intense study challenging young people to move beyond carnality and into a deeper relationship with the Almighty God.  This conference is about discipleship and introducing young people to Jesus.  Thousands gather in the Great Smoky Mountains area for the purpose of Bible study and growing more intimately with our Lord and Savior. |
| | |
| --- | --- |
| | The Easter Sunrise Service in Ober Gatlinburg is glory to behold!  It's a time of gathering of all Christian denominations to praise the Lord and stand in "awe" of the Great Creator as you see the Great Smoky Mountains at sunrise.  The service begins at 6:00 A.M. Easter morning with free tram rides up the mountain beginning at 5:00 A.M.  Keep a jacket handy, and leave early! |
| | |
| --- | --- |
| | The Gaither Family Fest in the Smokies is coming May 24-26, 2019!  This exciting three day event features more Christian speakers and musicians!  It will be held at the Gatlinburg Convention Center in Gatlinburg!  Tickets are $125.00 for adults and $35.00 for children.  For more information, or to reserve tickets call 1-800-406-4224. |
| | |
| --- | --- |
| | Are you ready to "rock" Christian-style?  Mark your calendar for August 24, 2019!  Dollywood theme park has partnered with Premier Festivals for their "Rock the Smokies" show.  It's an annual festival featuring Christian rock music!  The price of your ticket does include admission to the Dollywood theme park!  Enjoy a wonderful worship experience during Rock The Smokies!   |
| | |
| --- | --- |
| | It's the Great Smoky Mountain's biggest concert event of the year!  Christians  from all over the world gather to praise the name of Jesus at the National Quartet Convention!  This six day event features some of the biggest names in Southern Gospel music.  Tickets really move fast so now is the time to plan your trip!   |
| | |
| --- | --- |
| | This exciting event normally held the last weekend in February is considered one of Winterfest's last events!  Hundreds gather at the Sevierville Convention Center every year to meet with authors, some popular, some local.  There are lots of autograph signings and great books.  This  all day event is FREE and offers a wide selection of writings including, Christian, Romance, History, and more.  If you enjoy reading, you'll love the annual Rose Glen Literary Festival.   |
| | |
| --- | --- |
| | Baseball season is an exciting time in the Great Smoky Mountains!  The Smokies stadium in Sevierville is the perfect arena for competitive ballgames, audience-interaction contests, fireworks, concerts, and more!  There's great restaurants close by, and delicious snacks inside.  The stadium even has its own restaurant called the Double Play Cafe!  After the excitement of the game, you'll love shopping Bass Pro Shops located right across the street!  The season begins in April and runs into September. |
| | |
| --- | --- |
| WinterFest November-February | WinterFest is one of the Great Smoky Mountain's most popular events!  Sevierville, Pigeon Forge, and Gatlinburg are all  filled with colorful lights!  Each city has created their own display that has the entire area alive with blinks and twinkles to take your breath away!  There's lots of festivities during this celebration! Enjoy Christmas theater shows, parades, and more.  WinterFest happens November through February.  |
| | |
| --- | --- |
| | Pull out your "toe-tapping shoes, and get ready for some good, wholesome mountain-style music, and the biggest tales you've "ever laid your ears to!"   It's time for Gatlinburg's presentation of Smoky Mountain Tunes & Tales!  This Smoky Mountain event is FREE, and it gets bigger and better every year! It begins during the months of April and May on Fridays, and Saturday nights in downtown Gatlinburg.  From June to August,  Smoky Mountain Tunes and Tales happens every single night in the middle of downtown from 6:00 P.M. til 11:00 P.M.  It's interactive!  It's educational!  It's a Smoky Mountain event the whole family will love! From "Zeno" the bear, to the best singing, clogging, and storytelling ever, it's Appalachian culture at it's very best...It's Smoky Mountain Tunes and Tales! |
| | |
| --- | --- |
| | Bloomin' Bluegrass and BBQ is a spring festival in Sevierville that you don't want to miss!  It's a great weekend of music, food, and fun!  Some of the best folks from around the country come to share their delicious BBQ!  Downtown Sevierville is filled with delicious food smells, tables of beautiful crafts, and live stage performances.  There is also competition involved.  One of the most exciting being the "Dolly Parton Sing-a-like competition.  This event is near the court house where the famous Dolly Parton statue is located.  This 2019 event is happening May 17-18. |
| | |
| --- | --- |
| | Gatlinburg's New Year's Eve Ball Drop and Fireworks Display was December 31!  Thousands gathered at the Space Needle in Gatlinburg to bring in the new year with a "bang!"  The Space Needle has an observation deck and stands 407 feet tall offering spectacular views of the city.  Below it is one of Gatlinburg's biggest arcades.  This event is always filled with lots of thrills, music, and fun!  |
| | |
| --- | --- |
| Titanic Museum Fireworks Display | Celebrating Thanksgiving in the Smokies is always interesting at the Titanic!  Their dazzling fireworks display celebrates the beginning of the holiday season while honoring the 2,208 passengers who sailed on the Titanic.  It always takes place Thanksgiving evening.  Be sure to come early!  Enjoy the Titanic Museum, then prepare to see the best fireworks display ever! |
| | |
| --- | --- |
| Smoky Mountains Fall Festival October 1-31 | The Smoky Mountains Fall Festival is a sight to behold!  The trees are bursting with color in the mountains while Fall decorations bring the community to life with the colors of fall! This festival along with it's fun fall events takes place during the whole month of October! |
| | |
| --- | --- |
| | If you're into classic automobiles, and unusual means of transportation, you'll love the Pigeon Forge Rod Run!  It's filled with interesting "rides!" You can go for looking, or for buying!  The Pigeon Forge Rod Run is an annual event! that happens in the spring and fall.  Hot wheels "reb and reel" during the Pigeon Forge Spring Rod Run!  It's indeed one of the most unique  Smoky Mountain events!  Thousands pour into the area to see all the cool cars, trucks, jeeps, golf carts, (and just about anything you can think of on wheels!)  Vehicles are lined for miles down the main street of Pigeon Forge!   I love  the old antique vehicles!  There are some real "beauties" in later models out there too!  If you're in the Smokies during the Spring Rod Run, you're sure to notice  the nostalgia of, beautiful, and colorful machines on the roads everywhere!  It's a full weekend of fun! |