SMOKY MOUNTAIN EVENTS
Exciting Smoky Mountain Events are going on all the time!  The seasons are always filled with fun-filled things to do!  Plan to attend one of these "hoot -n- hollering fun-time" activities!
SMOKY MOUNTAIN TUNES AND TALES
Pull out your "toe-tapping shoes, and get ready for some good, wholesome mountain-style music, and the biggest tales you've "ever laid your ears to!"   It's time for Gatlinburg's presentation of Smoky Mountain Tunes & Tales!  This Smoky Mountain event is FREE, and it gets bigger and better every year! It begins during the months of April and May on Fridays, and Saturday nights in downtown Gatlinburg.  From June to August,  Smoky Mountain Tunes and Tales happens every single night in the middle of downtown from 6:00 P.M. til 11:00 P.M.  It's interactive!  It's educational!  It's a Smoky Mountain event the whole family will love! From "Zeno" the bear, to the best singing, clogging, and storytelling ever, it's Appalachian culture at it's very best...It's Smoky Mountain Tunes and Tales!

Smoky Mountain Events Happen Year Around
SMOKIES BASEBALL

- April through September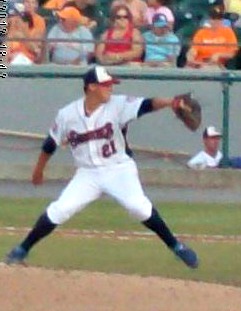 Baseball season is an exciting time in the Great Smoky Mountains!  The Smokies stadium in Sevierville is the perfect arena for competitive ballgames, audience-interaction contests, fireworks, concerts, and more!  There's great restaurants close by, and delicious snacks inside.  The stadium even has its own restaurant called the Double Play Cafe!  After the excitement of the game, you'll love shopping Bass Pro Shops located right across the street!
PIGEON FORGE SPRING  
ROD RUN - APRIL
Hot wheels "reb and reel" during the Pigeon Forge Spring Rod Run!  It's indeed one of the most unique  Smoky Mountain events!  Thousands pour into the area to see all the cool cars, trucks, jeeps, golf carts, (and just about anything you can think of on wheels!)  Vehicles are lined for miles down the main street of Pigeon Forge!   I love  the old antique vehicles!  There are some real "beauties" in later models out there too!  If you're in the Smokies during the Spring Rod Run, you're sure to notice  the nostalgia of, beautiful, and colorful machines on the roads everywhere!  It's a full weekend of fun!

DOLLY PARTON HOMECOMING PARADE - MAY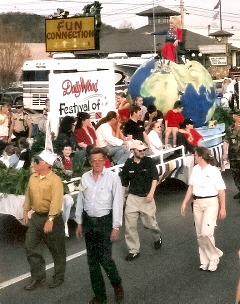 Everybody loves a parade!  Especially when the queen of the Great Smoky Mountains, Dolly Parton is Grand Marshall! 
 The parade is an excellent time to see Dolly Parton in person!  Thousands line the streets of Pigeon Forge every year to see this awesome fanfare!  It also features local beauty queens, dignitaries, local bands, floats, area attractions, and more!!  The Dolly Parton Homecoming Parade is an annual event!
Resurrection Youth Conference
The Resurrection Youth Conference relocated to Pigeon Forge for 2016!  After meeting in Gatlinburg for thirty years, it was decided to move this conference to the LeConte Center in Pigeon Forge.  As a result of the move, the entire event will happen all in one weekend and offer double sessions.   Benefits with this move include better seating, free parking,  indoor waiting, everything on one level, and more.   For more information contact Laura McLean by e-mail at lauramclean@holston.or, or call 865) 293-4151.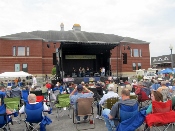 ROSE GLEN LITERARY FESTIVAL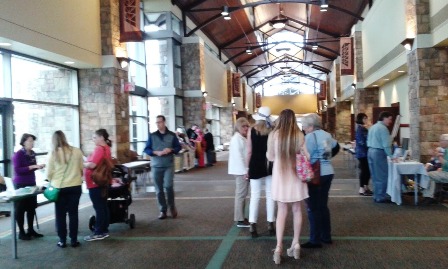 This exciting event normally held the last weekend in February is considered one of Winterfest's last events!  Hundreds gather at the Sevierville Convention Center every year to meet with authors, some popular, some local.  There are lots of autograph signings and great books.  This  all day event is FREE and offers a wide selection of writings including, Christian, Romance, History, and more.  If you enjoy reading, you'll love the annual Rose Glen Literary Festival.  
Celebrate Spring-Fest in Sevierville, TN with great music, lots of fun, and plenty of food!  It's Bloomin' BBQ & Bluegrass!  Share our Smoky Mountain Heritage by enjoying plenty of southern cooking, beautiful crafts, bluegrass, and lots of fun "things to do" for the kids!
Jun 16, 18 02:20 PM

Be spirtually blessed and entertained as you enjoy Christian drama in the Smokies

Jun 08, 18 05:52 PM

Action Packed Pigeon Forge Attractions, and Shows

Jun 08, 18 05:12 PM

Smoky Mountain Heartsong is A Christian-based site connecting the beauty of God's creation of the Smokies with things to see and do in the area.