SMOKY MOUNTAIN 
VACATION CABIN RENTALS
Inclusive vacation cabin rentals in the Smoky Mountains area is the ultimate choice for the perfect stay!  Everything you need is waiting for you.  Enjoy the finest accommodations including all the amenities, and breathtaking views.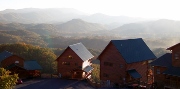 SMOKY MOUNTAIN VACATION CABIN RENTALS ARE AMONG THE MOST ACCOMMODATING IN THE WORLD!      



You'll love the relaxation that comes with one of these vacation cabin rentals!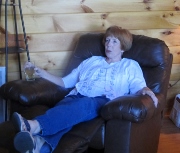 The serenity of the Great Smoky Mountains come alive when you experience the stay inside one of these beautiful cabins, or chalets. There's nothing like a quiet mountain getaway to relieve stress and put you into a "relax" mode.  A cottage, or chalet surrounded by these beautiful mountains bring the wonder of God's creation into perspective!  Smoky Mountain Vacation Cabin Rentals are great for taking you away from it all!  A special "feel" that you're actually sitting on top of the world! 

Photo Courtesy Cindy Mayes
Let's start with Smoky Mountain log homes! There are small ones, large ones, and some in-between ones, and most all are super nice!  These will accommodate you, and your family very nicely. Or if you prefer,  plan a trip with your friends, church, or business. 
In the fall, the ladies in my Sunday School class sometimes rent one of the large log homes.   It's all about being with wonderful friends spending time together and serving a God.   I love it when we do this!! I'm always ready to go!  It's so beautiful! We fellowship, eat, play games, but most importantly, we study the Bible, and worship God in the way one can only worship surrounded by the power of God in these lovely mountains. 
A chalet in the mountains will also send you to the "top of the world!" If you ski, or if you don't, you'll be right at home in a chalet!  What's the difference between a chalet, and a log home??  The chalet originated from Switzerland, and is generally a wood structure, whereas cabins are usually made of logs.

| | |
| --- | --- |
| |  Most have fireplaces, BBQ grills, decks with rockers, hot tubs/Jacuzzis, TV's, game rooms, washer/dryer facilities, fully equipped kitchens, and more! Many rental companies offer nice packages at affordable rates. |
The Smoky Mountains has some of the nicest chalets you'll find anywhere in the world!
Chalets are every bit as beautiful as the cabins, and the accommodations are the same.  Chalets are located mostly near Ober Gatlinburg ski resort, and in the mountains.  
Whichever you choose, be it a cabin in the mountains, or a lovely Chalet, you can be sure it will play an intricate role in creating the perfect Smoky Mountain vacation!
| | | |
| --- | --- | --- |
| Photo Courtesy Cindy Mayes | | |
Gatlinburg Cabins Online rents cabins and Chalets in Gatlinburg.  They also have vacation cabins in the Pigeon Forge area.

Legacy Mountain Resorts is rentals featuring lovely one to three bedroom luxury log cabins.
Majestic Mountains Vacations in  Pigeon Forge offers large cabins for large groups.  Pet friendly cabins are also available.
The Preserve Resort also offers beautiful luxury cabins.  Enjoy the area's beautiful views of the valley while being surrounded by the scenic Smoky Mountains.
Sherwood Forest Resort is a community resort.  It's gated for privacy as you enjoy luxury surrounded by everything to see and do in the Pigeon Forge area. There is a nice big pools included on the grounds here!
Sugar Maple Cabins have rentals in both Gatlinburg and Pigeon Forge area. Choose from cabins condos, or chalets.  These rentals are near the many things to see and do in both areas.
Baskins Creek Condominiums are located downtown Gatlinburg!  Everything is right at your fingertips!  Most everything to see and do in the city is within walking distance!