Dukes of Hazzard 
"Smoky Mountain Style"
A Dukes of Hazzard cast member sighting is always a possibility here in the Smoky Mountains!  Every once in awhile the famous General Lee is spotted going down the highway blowing its "Dixie" horn.
COOTER'S PLACE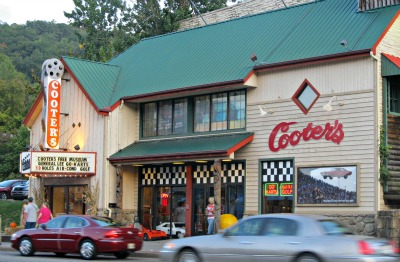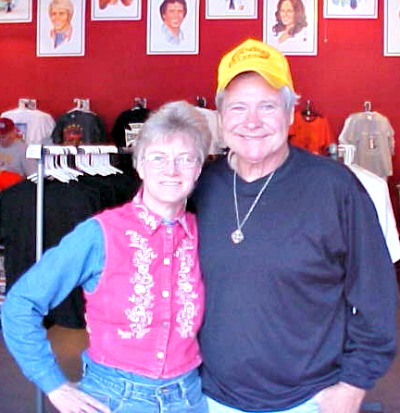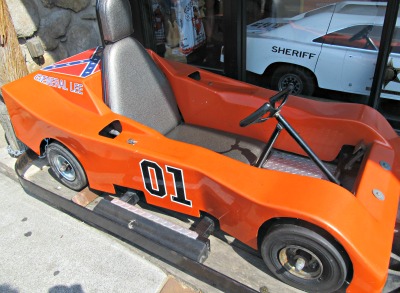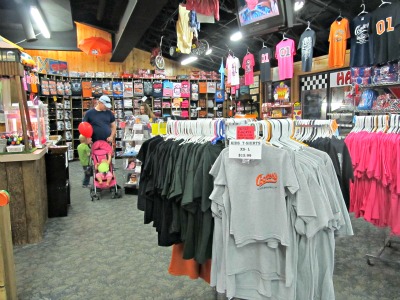 A "must see" for every fan is Cooter's Place in Gatlinburg!  Ben Jones who played the character of "Crazy Cooter" really does own the place! If you're really lucky, you might even see him here!  I've met him, and I must say he's really a great guy! Cooter's Place is the kind of hang-out where you bring the whole family and have a ball. It's about racing General Lee Go Carts on an indoor slick track good for 40 laps. These racers can move up to 23 mph!  There's an indoor mini golf course, and lots of Collector's Paraphernalia for sale.
 Cooter's Place is an excellent spot for school retreats!  Celebrate a birthday!   Groups are always welcome!  There are even vacation packages available.  For more information, or to make reservations, call Cooter's Place at (865) 430-9909.
DUKES OF HAZZARD CAST SPOTTED IN THE SMOKY MOUNTAIN AREA!
 JOHN SCHNEIDER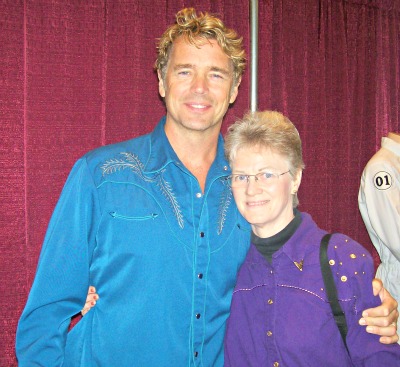 John Schneider has been spotted in the General Lee driving the streets of Sevier County!  He was also known for doing donuts inside the Governor's Crossing area! John, along with his co-star Tom Wopat did a concert in Dollywood a few years back.   John visited the Muscle Car Museum in Sevierville with his mom.  When I caught up with these two, John was posing by one of the cars on display.  I noticed his hand on the car right near the small sign that read "Do Not Touch."  When I pointed it out to John, and suggested he remove his hand, he grabbed up the sign, and posed with it too! (Go figure...LOL)  And yet again, John appeared in a trade show at a Pigeon Forge convention center.  He hung around until the last autograph was signed.  Working as an entertainment reporter has given me several opportunities to interview John, and know him personally!  And ya know what??? HE'S A SUPER GREAT GUY....NO KIDDING!
BYRON CHERRY - ALIAS COUSIN COY DUKE
Remember Bo Duke's cousin Coy? The role was played by Byron Cherry I I met this guy here in the Smokies, and just fell in love with him! He laughs all the time, he refers to every woman he meets as Daisy Duke, and he loves a good Hardees' Hamburger! 
CATHERINE BACH
Catherine Bach came by invitation of "Crazy Cooter" himself, Mr. Ben Jones.  She signed autographs at Cooter's Place, then made her way over to Patriot Park for an event that was being held there.  Catherine is a really sweet, down to earth girl, and a pleasure to talk with.  

BEN HURST - "CLETUS"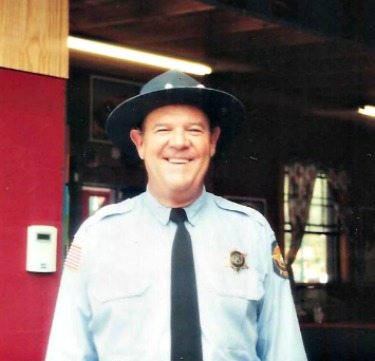 Everyone loves to laugh at this guy on the show, and he's just as funny in person!  He enjoys meeting fans, and came to Cooter's Place on a pretty regular basis!  Everyone who was lucky enough to run into this guy had a great time chatting.  He's full of fun and personality!  Just like Cletus!! 

Wanna have some fun "Duke-style?"  Test your knowledge!  http://www.funtrivia.com/en/Television/Dukes-of-Hazzard-2297.html
Jun 24, 18 03:37 PM

The hike to Abrams Falls is one of the most lovely in the Great Smoky Mountains National Park.

Jun 16, 18 02:20 PM

Be spirtually blessed and entertained as you enjoy Christian drama in the Smokies

Jun 08, 18 05:52 PM

Action Packed Pigeon Forge Attractions, and Shows