COWBOY CHURCH 
LIFTING UP THE NAME OF JESUS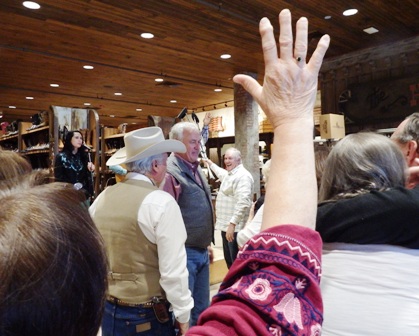 Cowboy church offers an opportunity to worship non-traditionally.   This "come as you are" service reaches out to those who are not in church on a regular basis, as well as members attend every Sunday.  Those who may not be comfortable walking into a church setting may be more at ease walking into a western store.  
Cowboy Church is one of the most awe-inspiring services held in the Great Smoky Mountains area!  This worship service, held annually at Stages West Western Store in Pigeon  Forge, offers an awesome time of praise!  There's plenty of singing, shouting, and old-time preaching.  From beginning to end, the service is a time of celebration filled with "spirit-filled worship.  
The annual 2018 event began on Sunday morning, March 4th at 8:00 A.M  with a delicious Chuck Wagon breakfast served until 10:00 a.m.  The cost for the meal is normally $5.00 and well worth it!  Cowboys and Cowgirls enjoyed biscuits smothered in white gravy, scrambled eggs, sausage patties, and a choice of drink including coffee, milk, soft drinks, or water.  There was also a snack bar inside Stages West filled with coffee and delicious pastries of most every kind.  
INSPIRATIONAL MUSIC AND SPIRITUAL WORSHIP
ARE EXPERIENCED DURING COWBOY CHURCH
The service began with song and praise worship followed by an "on fire" message by Evangelist Doug Stoves of Cross Mountain Ministries in Portersville, Mississippi.   The Spirit of the Lord was experienced strongly through hand-clapping, singing, and shouting throughout the whole service.  The most amazing part of the service took place at the end as people were touched by the Holy Spirit by making professions of faith and becoming super-naturally healed of their ailments.  
Cowboy Church is part of a two-day week-end event held every year around the beginning of March.  It's inclusive with the Chuck Wagon Cook-off held on Saturday before the worship event on Sunday.  Everyone is welcome to attend these events free of charge (excluding meals.)   Come dressed in your regular attire, or enjoy dressing in your cowboy/cowgirl attire.  
COWBOY CHURCH
GENERAL INFORMATION
Cowboy Church became popular in the 1970's.  It first began in the cowboy community with all those involved in the pro-rodeo circuit.  It was emphasized within the cowboy culture and designed to reach the cowboy/cowgirl community.  It's trend is closely related to biker churches and trucker churches.  Cowboy churches have been in existence for more than 50 years all over the U.S.  This way of worship has moved forward by reaching out to others and spreading the gospel of Christ in a non-traditional, comfortable setting.  It is open to all denominations.
RELATED PAGES
Jun 16, 18 02:20 PM

Be spirtually blessed and entertained as you enjoy Christian drama in the Smokies

Jun 08, 18 05:52 PM

Action Packed Pigeon Forge Attractions, and Shows

Jun 08, 18 05:12 PM

Smoky Mountain Heartsong is A Christian-based site connecting the beauty of God's creation of the Smokies with things to see and do in the area.