Great Smoky Mountains
The Perfect
Camping Location!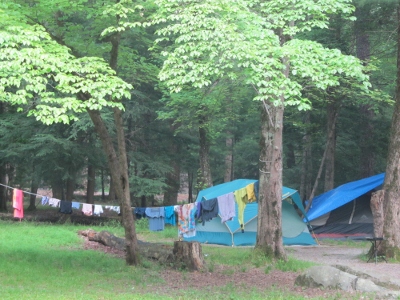 AN EXCITING ADVENTURE BEGINS WHEN YOU PITCH A TENT INSIDE THE CAMPING LOCATION OF THE GREAT SMOKY MOUNTAINS
Setting up camp in the Great Smoky Mountains is an adventure within itself! The excitement never ends!  Whether you're staying in an RV, or pitching a tent, you'll enjoy the feel of "roughin'it" in the wild! 
Because there's so much to discover while in the Great Smoky Mountains camping location, it's always a good idea to sit down and plan your trip. This way you know exactly where your going, and what you most want to see.

WHAT TO PACK
| | |
| --- | --- |
| | Before arriving at your camping location, make sure you have everything.  Essentials include checking your tent to make sure its in good shape, and all the  parts are there.  Pack sleeping bags, pillows,  camping chairs, bug spray, charcoal & lighter fluid. Bring plenty of food, and drinks.  Wear comfortable shoes, and clothing for weather changes..   It's good to have a first aid kit, and toiletry items.   |
Both "Frontcountry" and "Backcountry" Camping
Are Both Prevalent In The Smokies
| | |
| --- | --- |
| Back Country Camping | Backcountry is for folks who backpack, or enjoy being in wilderness country.  This camping route takes you into deep mountainous areas of the Smokies.  This kind of camping is for the more experienced  who know how to handle different weather conditions and deal with wildlife.  It's a means by which to convene directly with nature and experience God's creation first-hand.  It's a wonderful way to get away from the hustle of everyday life and spend time with God. |
The Great Smoky Mountains National Park requires a park permit for backcountry camping inside the park. It's FREE, however, it is required that you stay at a designated campsite, or shelter. Pets are NOT allowed on backcountry trails. If you have any questions, or need more information, call the Back-country Information Office at 865-436-1297.

| | |
| --- | --- |
| Frontcountry is setting up in developed outdoor areas like campgrounds, and normally easy to get to.  There are hundreds of campgrounds to choose from in all areas of the Smoky Mountains and Sevier County area They're generally crowded, especially during the summer months. Many campgrounds have Sunday church services.   These often consists of gospel music, and preaching from the Bible.  Because of crowding, it's a good idea to make reservations .  | |
FUN THINGS TO DO AT YOUR CAMPING LOCATION 
There's a lot to do while camping in the Smokies!  Go exploring for wildflowers and unusual rocks,  Catch fireflies, or have a scavenger hunt.   Play games and tell scary stories.  Plan to cook delicious outdoor meals.  If you're camping location is near where there's fishing, throw a hook in.  Take a nice hike, (but know your boundaries) go biking, or just kick back and read a good book. 

 You may even be able to have lunch by a beautiful waterfall, or view the amazing wildlife on some of the great trails we have here.

I wish I could mention all the wonderful campgrounds and RV Parks you'll find in the Smoky Mountains area.  Each one is unique and has its own form of beauty.  Some offer recreation, some beautiful landscapes but most all offer quiet, peaceful surroundings to bring lots of relaxation!  You can even experience the power of God as you enjoy beautiful mountain surroundings!  There's lot of information on camping at Love the Outdoors.com