Smoky Mountain Local Hikes
SOME OF THE BEST LOCAL HIKES IN THE WORLD ARE LOCATED INSIDE THE GREAT SMOKY MOUNTAINS NATIONAL PARK!

Check Out Some Of These Exciting Local Hikes!
Wildflowers and Falling Waters
Date: Tuesday, April 10Time: 9 a.m.Location: Porters Creek - Tennessee
The Smokies are known around the world for our dazzling array of wildflowers and we want to share this sight with you! Join naturalist Liz Domingue for a hike through a wildflower 'hotspot' and learn the names of these wildly delicate beauties. We'll take a lunch break at Fern Branch Falls to re-hydrate and re-energize before heading back and seeing the trail from a different point of view.
Rating: ModerateMileage: 4 miles maximum

Meigs and Curry Mountain Trails
Date: Saturday, April 14Time: 8:30 a.m.Location: Metcalf Bottoms - Tennessee
Hit the trail for a springtime history hike with local author Steve Kemp on Meigs and Curry Mountains trails. We'll organize a carpool and start our day in Elkmont and quickly head west along the base of Blanket Mountain, passing what's left of homesteads that were settled in the 1920s. Don't miss your chance to sign up. This event is limited to 15 people! Wildflowers and historical interpretation will be abundant.
Difficulty Rating: Easy to moderateMileage: 9 miles maximum

Bus Tour - Roaring Fork Motor Nature Trail
Date: Friday, April 20Time: 9 a.m.Location: Twin Creeks Picnic Pavillion - Tennessee
Just sit back and enjoy the view when you join this interpretive bus tour of Roaring Fork Motor Nature Trail. For this trip, GSMA collaborates with A Walk in the Woods, a premier tour company, to provide our guests with comfortable travel while Stephen Lynn Bales, direct descendant of homesteaders to the Roaring Fork community, interprets the rugged beauty, rich history of his family and well-preserved historical structures of the area.Difficulty Rating: EasyMileage: Low mileage. Bring sturdy shoes

Birding Basics - Tennessee
Date: Saturday, April 21Time: 8 a.m.Location: Sugarlands Visitor Center Training Room - Tennessee
Join us for an information packed full-day, two-part course to learn new birding skills or sharpening your current knowledge with local birding expert, conservationist and guide Keith Watson. Part one will be indoor instruction using photographs and sound bites of resident and migratory bird species seen in the Smokies. Part two will be field work and lessons on the importance of record keeping and sharing in the ever-connected digital world.  
Difficulty Rating: Easy. Light hikingMileage: 2 miles Maximum

Birding Basics - North Carolina
Date: Sunday, April 22Time: 8 a.m.Location: Oconaluftee Administration Building - North Carolina

We want the good people from the southern side of the Smokies to join us for a fun-filled, full-day, two-part birding course! Just like our Gatlinburg counterparts, we will acquire new birding skills or sharpen our current knowledge with local birding expert, conservationist, and guide Keith Watson as our guide. Part one will be instruction conducted indoors using tools for visual and audible identification. Part two will be field work and lessons on the importance of record keeping and sharing in a digital world.  
Difficulty Rating: Easy. Light hikingMileage: 2 miles maximum.

Bus Tour - Cades Cove
Date: Monday, April 30Time: 9 a.m.Location: Great Smoky Mountains Heritage Center - Townsend, TN
We only have room to invite 13 lucky GSMA members on a one-way trip through Cades Cove, a broad and verdant valley surrounded by mountains. Tenured GSMA guides, Mark and Janet Snyder will lead us on a comfortable bus tour around the cove interpreting the historical and natural history of this once thriving community. As a group we will be able to explore historic cabins, grist mills, churches. And since you won't be doing the driving, you might have a chance spot the abundant wildlife in the area such as; Black bear, White-tailed deer, Fox, Coyote and a variety of bird species.
Difficulty Rating: EasyMileage: Zero. Prepare to enter and exit bus to explore area.


Our highly anticipated Members Weekend will be September 14 - 16 at Fontana Village Resort and Marina. Make your lodging reservations before July 1 to guarantee the special group rate.


In Eastern North America lies some of the most beautiful mountains God ever created! Within these hills lie some of the best local hikes in the world with the famous Appalachian Trail being among them!
TEN BEST HIKING TRAILS
ROCKY TOP/THUNDER MOUNTAIN
ANDREWS BALD
PORTERS CREEK
MT. LeCONTE via ALUM CAVES
RICH MOUNTAIN LOOP
RAMSEY CASCADES
CHIMNEY TOPS
CHARLIES BUNYON AND THE JUMP OFF
SPRUCE FLAT FALLS
MOUNT CAMMERER
Before you get started, it's a good idea to make sure you've got the right footwear.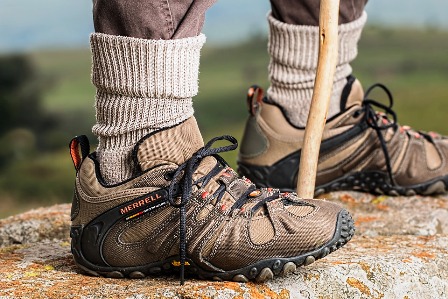 A good question to ask yourself is "Are my feet "trail" ready!"   Do some research on the trail you've chosen.  How long is the hike?  What is the level of difficulty?  Hiking boots are essential for wet, or muddy trails which occur after a rainfall, or heading toward a waterfall.  Winter calls for warm boots that are comfortable.  Temperatures are normally cooler in the higher elevations especially during this time of year.  A good walking shoe strong enough to handle rough terrain is acceptable during the spring, fall, and summer.  It's important to wear a shoe with good support and comfort that will last throughout the whole day.  
These "wilderness paths" are some of the Smokies' all-time favorite trails! 

| | |
| --- | --- |
| | Cades Cove has been blessed with an endless list of hiking trails! And believe me, you'll find an exciting challenge at every level!  These trails can stretch out for miles. However, some are longer than others. For safety reasons, it's always important to choose the trail you want to hike. Get as much information about it as you can, and let someone know which trail you're hiking.  Dress comfortably, and carry a first aid kit, along with other hiking necessities, like a compass, and flashlight. |
| | |
| --- | --- |
| | The observation tower remains the highest point at 6,625 ft (2,019 m) The view is spectacular with a 360 degree panoramic breathtakingly beautiful scene!  If you visit on a hazy day, you can see up to 20 miles away, but on a clear day, expect to see up to 100 miles of God's awesome handiwork!  Clingman Dome's road begins near NewFound Gap and stretches seven miles. There's at least seven additional back-packing venues in the area.  Though walking is a popular sport around here, however a paved road leading to Clingman's Dome remains closed during the winter months!  Clingman's Dome itself stands nearly 5,000 feet. |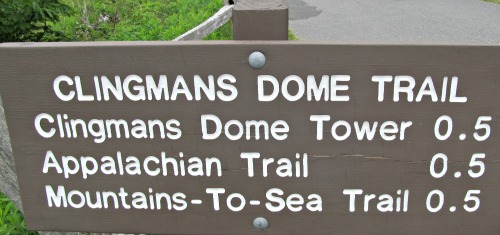 The Appalachian Trail stretches through 13 U.S. states including Tennessee, North Carolina, Georgia, West Virginia, New york, New Jersey, New Hampshire, Maine, Maryland, Massachusetts, Pennsylvania, Vermont, and Connecticut.  Anyone can tell you there are beautiful local hikes to be experienced in every state! It's those who are faithful and determined that make the Appalachian Trail the famous world landmark that it is.  With 2,181 miles (3,510) across the United States, some known as thru-hikers attempt to walk the whole thing in a single season! Now that's commitment!!Bordering Tennessee and North Carolina, the Appalachian Trail intersects with the The Great Smoky Mountains National Park .You might consider me a "bit" prejudice since I live here, however, I believe the The Great Smoky Mountains National Park section of the Appalachian Trail is among the most lovely!
I've mentioned ONLY few of the countless nature hikes near the Great Smoky Mountains National Park.  If you love hiking/backpacking, these mountains offer more than your fair share of some of the best hiking in the US, and maybe even the world!  If your interested in hiking outside the Great Smoky Mountains, a great site to check out is http://www.reno-tahoe-hiking.com/index.html