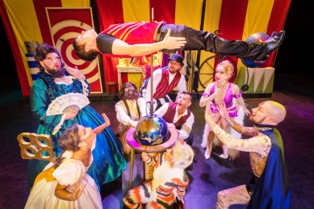 Magic Beyond Belief Circus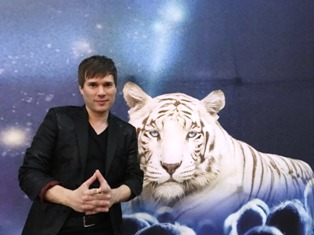 Tony Romeo with White Tiger "Hollywood"
This magician, along with his talented cast dressed in colorful costumes and do a circus act you have to see to believe!   The Magic Beyond Belief show is a magical adventure with disappearing animals, levitation acts, and comical skits.  Enjoy musical tributes (sung by Romeo) to some of the world's most talented artists.  Two large video screens located inside the theater brings magic tricks up close.   Magic Beyond Belief offers a magical glow to the Great Smoky Mountains area! The stage is alive with singing, dancing, elaborate sets, and state-of-the-art lighting.  It's a production filled with unbelievable acts of fanciful disillusion, head games, and trickery that reaches far beyond the imagination!  

magic beyond belief presents the sensational "darren romeo"
Darren Romeo has performed with world-renowned magicians Siegfried & Roy as their one and only protege.  At one time he was slated in his own show called "Siegfried & Roy presents, Darren Romeo." at the Mirage Resort Hotel in Las Vegas.  While in Vegas, he also performed at Caesar's Palace and the Flamingo Hilton.  He later performed in Reno, Nevada, Biloxi, Mississippi, Atlantic City, New Jersey, and the world famous Magic Castle in Hollywood, California where he was named "Magician of the Year."  Other credits include The Academy of Magical Arts, Inc., "Show of the Year" (two years in a row) from the Branson Critic Association and the Milbourne Christopher Award for Notable Contributions to the "Art of Magic" from The Society of American Magicians (SAM).   One of Darren Romeo's greatest successes is attributed to his being the only magician in the world to have been granted permission from the Blackstone family  to carry on the Harry Blackstone Jr. legacy by paying tribute to his illustrious "Floating Light Bulb" Illusion.  
 Magic Beyond Belief is presented at the Smoky Mountain Opry Theater, 2046 Parkway in Pigeon Forge, TN.  Matinees are presented Monday and Friday, Saturday at 3:00 P.M.  Morning show times are Tuesday and Thursday at 10:30 A.M.  The theater is handicapped and stroller accessible.  Free parking is available.  For more information and/or to order DISCOUNT TICKETS CLICK HERE!