YEE HAA!!
Recreational Vehicle Rentals!
WHAT A WAY TO GO!
HAVE THE TIME OF YOUR LIFE ZIPPIN' THROUGH THE SMOKIES IN RECREATIONAL VEHICLE RENTALS!
Get ready for a "rip-roarin good time" with some of the best "rides" in the Smokies?
These exciting "fun-time" vehicles are ready when you are!  Take off into the Smokies on the "ride" of your choice and have the time of your life!
BOATING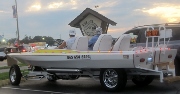 Yep!  This is for real!  It's a boat...that travels on LAND!  It's one of the most unusual recreational vehicle rentals in the Smokies!  You'll be the "talk of the town" as you cruise by on this cool boat!  The Smokies also offers kayaking, and jet boating!
If you're ready for a boat ride,  on land, or on sea...the Smoky Mountains is the place to come!
Motorcycles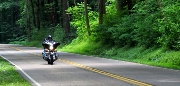 There are lots of ways to view the mountains! However, you really haven't seen the Smokies until you've had a "birds-eye view from a helicopter!
 Scenic Helicopter Tours in Sevierville show you the Great Smoky Mountains as you've never seen before!There are both long, and short tours. This family-owned adventure has been in operation since 1972. Bring your family for a breath-taking look at the Smokies in a comfortable helicopter with Scenic Helicopter Tours!
BICYCLE RENTALS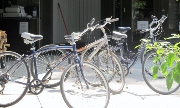 Get some "pump action" going with a Smoky Mountian bike ride! Bicycle Rentals Of Cades Cove in the Great Smoky Mountains National Park has bikes for all ages and abilities. The Cades Cove area offers a scenic biking adventure you'll never forget! It's good exercise, and WOW!!!What a view! The Mountains, the wildlife, the flowers,etc..complete the perfect biking experience. You'll love renting a bike, and cruising through the Smokies for an "awesome ride" in Cades Cove.
MOTOR COACH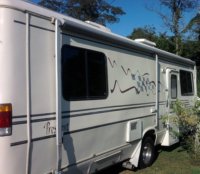 Photo Courtesy: Linda Horner
What a way to go!!!  And with so much camping in the area, you can find RV's most everywhere!  And yes, there are campgrounds who  have RV's for rent!   It's an excellent alternative to renting a hotel, or cabin!  The Smokies, and surrounding areas have  RV Parks, and  RV Resorts all over! 
Photo Courtesy: Malia Lane
My friend Malia is really big on  RV-ing in the Smokies! She's a local gal, and she has a real "knack" for being part of the action around here! She knows  the best places to set up camp, and where to see the most beautiful scenery and wildlife, "RV-style."    She has a blog filled with great information!  For more about cruisin' the Smokies in an RV, click the link above.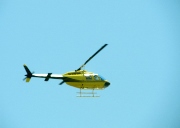 Feel  "as free as a bird" while riding those mountainous roads filled with curves, and fresh, clean air!  Riding a motorcycle is a great way to see the beauty of the Smokies!  If you've driven a car, just park it in front of one of the many motorcycle rentals places, and get ready to enjoy a recreational vehicle rental like no other!  Lots of folk are riding motorcycles through the mountains!  It's an adventure you don't want to pass up!
Aug 13, 18 03:00 PM

The Glades of Gatlinburg - The largest community of independent artisans in America!

Jun 24, 18 03:37 PM

The hike to Abrams Falls is one of the most lovely in the Great Smoky Mountains National Park.

Jun 16, 18 02:20 PM

Be spirtually blessed and entertained as you enjoy Christian drama in the Smokies