YEE HAA!!
Recreational Vehicle Rentals!
WHAT A WAY TO GO!
HAVE THE TIME OF YOUR LIFE ZIPPIN' THROUGH THE SMOKIES IN RECREATIONAL VEHICLE RENTALS!
Get ready for a "rip-roarin good time" with some of the best "rides" in the Smokies?
These exciting "fun-time" vehicles are ready when you are!  Take off into the Smokies on the "ride" of your choice and have the time of your life!
BOATING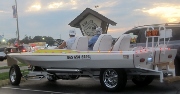 Yep!  This is for real!  It's a boat...that travels on LAND!  It's one of the most unusual recreational vehicle rentals in the Smokies!  You'll be the "talk of the town" as you cruise by on this cool boat!  The Smokies also offers kayaking, and jet boating!
If you're ready for a boat ride,  on land, or on sea...the Smoky Mountains is the place to come!
Motorcycles
There are lots of ways to view the mountains! However, you really haven't seen the Smokies until you've had a "birds-eye view from a helicopter!
 Scenic Helicopter Tours in Sevierville show you the Great Smoky Mountains as you've never seen before!There are both long, and short tours. This family-owned adventure has been in operation since 1972. Bring your family for a breath-taking look at the Smokies in a comfortable helicopter with Scenic Helicopter Tours!
BICYCLE RENTALS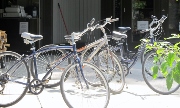 Get some "pump action" going with a Smoky Mountian bike ride! Bicycle Rentals Of Cades Cove in the Great Smoky Mountains National Park has bikes for all ages and abilities. The Cades Cove area offers a scenic biking adventure you'll never forget! It's good exercise, and WOW!!!What a view! The Mountains, the wildlife, the flowers,etc..complete the perfect biking experience. You'll love renting a bike, and cruising through the Smokies for an "awesome ride" in Cades Cove.