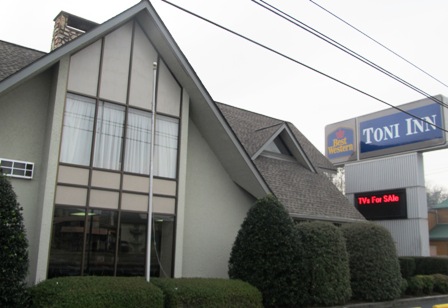 Best Western Toni Inn
You'll love staying at the Best Western Toni Inn if you love visiting these East Tennessee mountains!  This beautiful motel has everything the area has to offer!  Because it's centrally located, you're within a short distance to shopping venues, shows, and attractions.

 Everyone at this family-owned hotel works hard to make sure you experience a wonderful stay while visiting the Great Smoky Mountains area!  If you prefer enjoying action-packed Pigeon Forge and the surrounding areas, the Best Western Toni Inn is perfect location destination for enjoying the lovely scenic views, amusement parks and more. 
This hotel has served the Sevier County area for years.  Their motto:  "Stay with someone who cares" is proof-positive that their high service standards and "leading edge" accommodations will play a major role in creating a most memorial vacation stay in the Smoky Mountains.  The Best Western Ton Inn is a great place to bring the family!  The rooms are clean and big enough to relax comfortably.  They offer suites with Jacuzzi and fireplaces.  Free Wi-fi is available for business or pleasure.  One of the more popular spots at this Motel are the pool areas.  Enjoy their nice heated indoor pool complete with hot tub during any season.  For summertime fun, there is a heated outdoor pool with a hot tub.  You'll also enjoy a delicious hot breakfast each and every morning.   Among the best reasons to stay at the Best Western Toni Inn Motel is that it's only a short drive from the Great Smoky Mountains National Park where you'll enjoy beautiful waterfalls, hiking trails, wildlife viewing, camping and more.