Garden Flowers
Christ in the Smokies Museum and Gardens is a beautiful experience!  This inspirational attraction is divided into several scenes telling the story of the life of Jesus on earth.  God's word is brought to life through life-size by using life-size statuettes, special effects, narration, and spectacular lighting.  See famous Bible characters and learn about their lives. Every member of the family will enjoy seeing  their favorite Bible stories come alive in the 3D Dioramas. The most powerful scene comes at the very end where Jesus has been resurrected and rises toward Heaven.
christ in the smokies is the perfect place to increase your bible knowledge!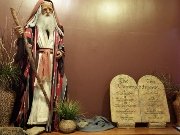 Bible Stories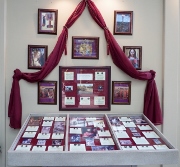 Interesting Displays
This beautiful museum is filled with interesting little-known facts from the Bible.  Become mesmerized by amazing artifacts and photos on display.  The inside gardens are adorned with ceramic angels, a peaceful fountain, and a lovely statue of Jesus.  It's a great place to take groups and family photos.  Look for the face of Jesus sculpture with moving eyes that appear to follow you as you move around the room.  The huge cross on the museum's lawn not only captures the beauty of spring, it is magnificent flower garden to behold!  During spring, the outdoor gardens come alive with beautiful flowers.  It's the perfect place to spend quiet time with God.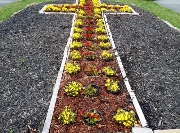 Lovely Flower Gardens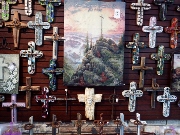 Lovely Crosses
At the end of the museum's tour is a gift shop filled with spiritual christian gifts for most everyone on your list.  There's a huge selection of most anything you're looking for including books, music, jewelry, wall decor, and more.  If you love the cross, Christ In The Smokies is a great place to find that one special cross to touch the heart of someone dear.  There are beautiful gifts of every size and that includes toys for the children.  
Christ in the Smokies is open year around beginning at 9:00 A.M.  Children 12 and under are FREE!  Also, there is free parking for those who are visiting the museum.  It's located in Gatlinburg, TN at 530 River Road.  For more information contact Christ In The Smokies at (865) 436-5155
Gift Shop