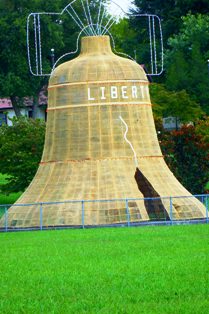 Liberty Bell at Patriot Park
Patriot Park has been a cornerstone in the Great Smoky Mountains area for years.  What's so special about this Pigeon Forge City Park?  It''s dedicated to all those in Sevier County who served in our military during wartime.  Located directly behind "The Old Mill Restaurant" just off of the parkway, it features a walking track that circles the entire park.  As you walk along the Little Pigeon River,  you see memorials to our Veterans and flags from all 50 states.

It's the perfect place to enjoy a family picnic under the gazebo.  However, if you plan to use the gazebo, you must have reservations.  But for those "spur of the moment" picnics, there is a pavilion complete with picnic tables and electricity that is available on a first come, first serve basis.  While eating, watch the ducks that play nearby.
patriot park hosts annual events
PATRIOT PARK comes alive in celebration of America's birthday on July 4th!  This FREE family event is filled with fun, food, music and more!  Bring your blanket and lawn chair!  Plan for a full day of festivities including games, and concerts!  Dusk brings one of the area's best fireworks displays!  Vendors offer traditional foods like, hot dogs, hamburgers ice cream, and more with proceeds going to support charities in the area.  Below is some important information to keep in mind to insure a wonderful day!




Enjoy a free kid's carnival and other festivities beginning at 1:30 P.M. 
Stand proud while watching a tribute to our veterans
Free Parking is available at the city parking area on Teaster Lane
Shuttles are available to transport people to and from the park from LeConte Municipal Parking Lot..
Umbrellas are not allowed.
Event headliners bring popular shows and famous people.
Fireworks begin at 9:45 P.M.
Springtime brings fishermen from everywhere to the area for the Smoky Mountain Spring Trout Tournament.  Competition is broken down into divisions for adults and children.  There are also divisions for locals and tourists to take a stab at winning over $10,000 in cash and prizes.  Before the two-day event, more than 9,000 trout are are added to the river.  Patriot Park hosts the Weigh-In!  It's the place to come see the excitement of who caught "the big one"
The most awesome Patriotic display happens during the Winterfest Festival that runs from early November until the end of February.  In keeping with the theme, the freedom of America rings true with a salute to our armed forces.  Displays like the Liberty Bell, the riverboat, and rolling waves from the song, "America the Beautiful" are lighted in red, white, and blue.  
The parking area of Patriot Park is the the main "stop and drop" for the Fun-time Trolley, which is the best way to get around Pigeon Forge without worrying about traffic.  You simply park your car, and pay the one-way fair of 50 cents and go anywhere you want to go in the city.  As a matter of fact, you can use the trolley to ride over to Gatlinburg as well.  Patriot Park is located at 186 Old Mill Ave, Pigeon Forge, TN.  For more information, or to make reservations call 865-429-7373.