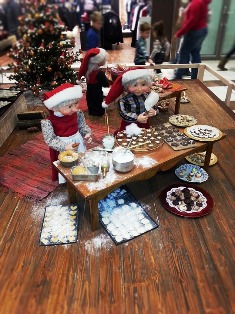 Shadrack Christmas Wonderland is a spectacular light show that happens in Sevierville, Tennessee every year during the holiday season!  It's an amazing show filled with bright and colorful LED lights dancing to music on the radio as you listen and drive through.  Become awe-stricken by millions of bright twinkling lights, tunnels, large, flickering Christmas trees, and more.  Holiday character favorites like Santa Claus, Frosty the Snowman, and Rudolph the Red Nosed Reindeer add a special magic that makes you feel like a kid again!   

One of Shadrack Christmas Wonderland's most beautiful displays is "O Holy Night."  Beautiful beams appear to shoot toward the heavens as a lighted manger pays tribute to the miraculous virgin birth of baby Jesus.   It serves as a reminder of a loving God who willingly gave us His son so that we may come to know Him as our Lord and Savior.  


shadrack christmas wonderland hosts santa's village
Everybody gets excited about visiting Santa's Village!  Children of every age group will have a wonderful time frolicking among the lights!  There's a lot to do here, so you'll want to have your camera ready!  The petting zoo has lots of adorable animals who love attention.  Both pony rides and camel rides are available!  Enjoy a leisurely walk through Shadrack Christmas Wonderland's Christmas Tree lot.  When you're ready to take a break, concessions are available.  Enjoy tasty treats like hot apple cider, funnel cakes, Christmas cookies, pizza, and more.   Pricing for Santa's Village activities are as follows:
Photos and Visits with Santa. Photo packages starting at $24.99.
Petting Zoo - $2 to feed and visit the animals.
Pony Rides - $5.
Food Vendors: Concessions, Hot Chocolate, Coffee, Fresh Kettle Corn, Tasty Treats, Glazed Nuts, etc.
Inflatables for kids.
Shadrack Christmas Wonderland is located at the Smokies Baseball Field at 3540 Line Drive in Sevierville, TN.  Froml I-40 take exit 407.   This presentation is open now through January 5th, 2020.  Hours of operation are from 6:00 P.M. til 10:00 P.M. seven days a week, however, this event is subject to stay open later on weekends.  It's because this production is very popular and weekends are the busiest times.  To avoid long wait lines, the best time to visit is Monday through Thursday.  For more information call 423-652-0120.
admission rates
Cars or family vans (8 passengers or less) All Fridays & Saturdays and all days  Dec. 13-29: $30
Cars or family vans (8 passengers or less) All Sundays-Thursdays EXCEPT Dec 13th-29th: $25
Activity van, limosine, or mini/half bus: $50
Tour/school bus: $100
Tickets are available at the gate.  Both cash and credit cards are accepted.