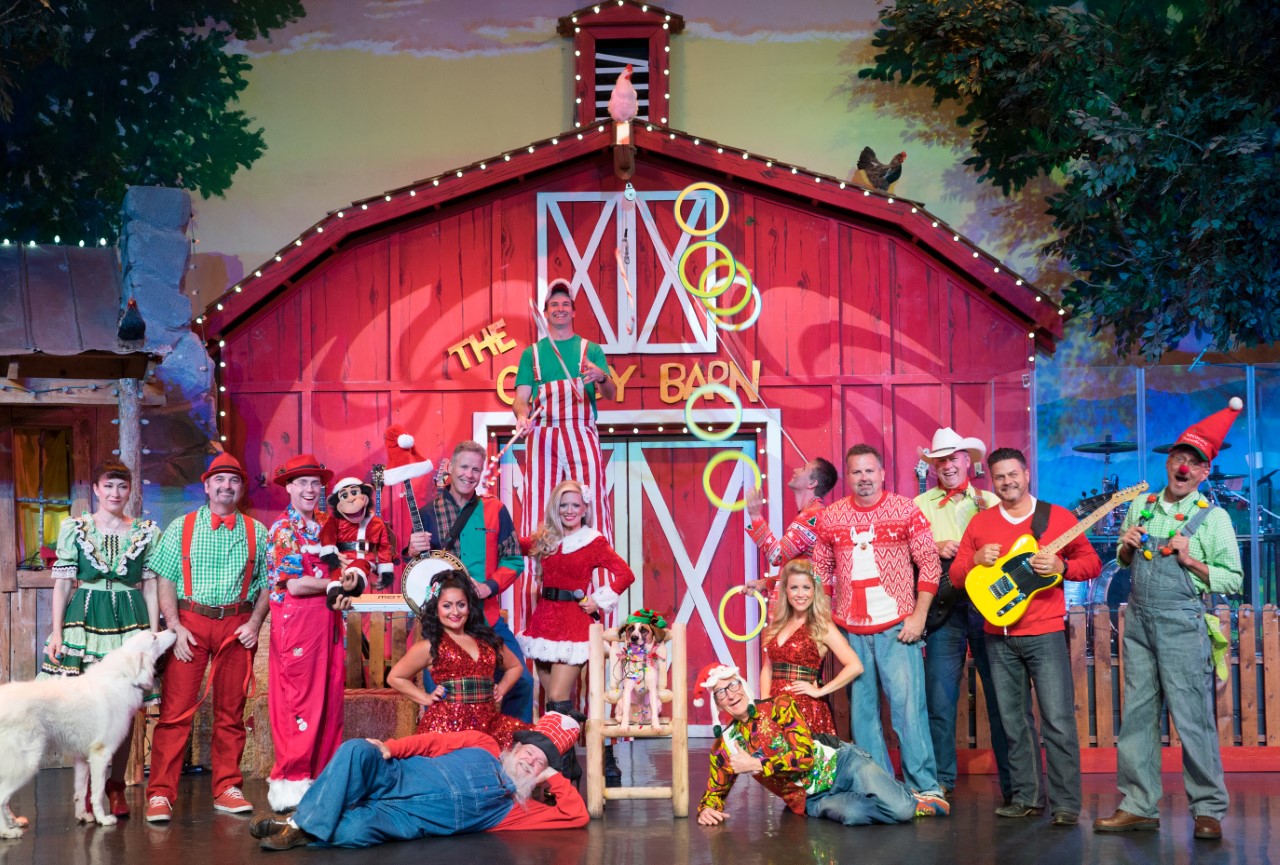 a comedy barn christmas
A Comedy Barn Christmas is the place to come if you love to laugh!   It's family fun filled with loads of crazy antics, music, and amazing stunts.   Enjoy Christmas tunes, colorful costumes, hilarious skits, and more!  This award-winning, high-energy show is sure to fill your heart with laughter as your spirit 'soars" with holiday cheer!   As in ALL FEE-HEDRICK shows, the Comedy Barn Christmas Show shines the spotlight on the true meaning of Christmas.  Through the praise of music there is tribute honoring our Savior who came as a baby in a manger to rescue a dying world.  
| | | | | | |
| --- | --- | --- | --- | --- | --- |
| Christmas Sing-A-Long | Amazing Cat with Trainer | Christmas Cloggers | Mind-blowing Juggling Act | Christmas Giant | Comedy Barn Christmas Music |
Everybody loves Christmas music!  Most everyone has a favorite song, or carol!  The Comedy Barn Christmas Show fills the arena with beautiful Christmas tunes, cloggers, and musical band performers playing and singing all throughout this delightful show. Of course there is comedy involved in every segment, so you never know what will come next.  Stay on guard!  Audience participation happens on a regular basis, so the chances of you're coming onstage as part of the show are pretty good!
the comedy barn christmas show is a side-splitting, high energy, EXTRAVAGANZA!
The Comedy Barn Christmas Show comedians are unbelievably funny!  Because this show is pure clean, family-friendly comedy, you will experience extreme humor without any offense!  Some of the crazy antics the juggler gets himself into and the wacky things he does and says while juggling has you rolling in the isles!  The ventriloquist manages to get himself into some tight situations with his pet monkey and his granny!  The monkey gets sassy, but grandma, as older folk sometimes do, just speaks her mind!
The most amazing part of the show are the cats!  These live pet cats have an electrifying circus show!  They climb through bars, roll with balls, and hop through hoops!  Every eye is on the cat that climbs upon a platform before being raised 100-feet in the air for a giant leap!  A "Woooo" is heard from the entire audience as this feline performs her incredible feat and takes the plunge!  These animals are exploding with "cat-power!"  who really know their stuff!  
| | |
| --- | --- |
| The Frizzle Chicken Farmhouse Cafe | One of the most popular things to do in the Smoky Mountains area is eat!  It seems people are eating around here all the time!  As a matter of fact there is one place where food and laughter go "hand-in-hand!  It's known as the "Frizzle Chicken Farmhouse Cafe!"  While enjoying "all you can eat" southern-style food, you'll get a good laugh as you are being serenaded by the largest display of singing chickens in the world!  This restaurant is located next door to the Comedy Barn Theater, making it the best choice to have lunch or dinner before the show.  |
| | |
| --- | --- |
| The Comedy Barn Theater is open year around with an awesome show filled with clean family fun!  The Christmas shows happen daily at 5:00 p.m. and nightly at 8:15 p.m.  During peak season, there are added shows starting at 5:00 P.M. and matinees every Saturday.   The Christmas show happens during the holiday season. The Comedy Barn Theater is located at 2775 Parkway - Pigeon Forge, TN.  | Comedy Barn Theater |