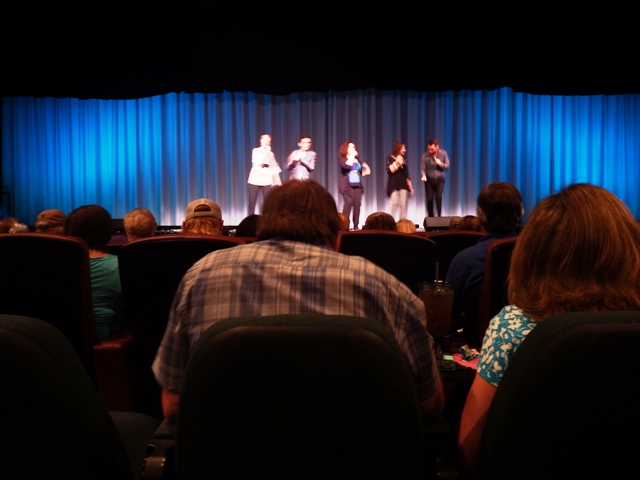 The Hallelujah Show is a performance of praise to our Lord and Savior!   It's an energetic Christian and Gospel production that ads variety, state-of-the-art holographic, and 3-D technology.  Trusted Bible Scholars have come together to make this one of the most thought-provoking, and biblical sound variety shows in the Great Smoky Mountains area!  It's a wonderful way to worship while being surrounded by the beauty of God's amazing mountains.  Several genres of music including southern gospel, contemporary, hymns, and worship music are performed during The Hallelujah Show. It's a beautiful presentation the entire family is sure to enjoy!  A live cast performs in this unique production along with holographic photography to bring you one-and-a-half hours of solid Christian enjoyment.  During the holiday season, the Biblical Times Theater does a dynamic Christmas show featuring the birth of Jesus.  
enjoy a delicious "biblical proportions-sized" feast during the hallelujah show
A delicious feast of Biblical proportions is served during the first half of the show.  The meal includes Deviled Eggs, Turkey, Gravy & Dressing, Sliced Ham /w Pineapple, Italian Green Beans, Sweet Potato Casserole, A Dinner Yeast Roll, and for dessert - Lemon Glazed Pound Cake w/Raspberry Sauce.  Drinks include soft drinks, tea, and water.  Vegetarian and Gluten Free meals are available upon request.  A Kid's menu is available, however, you must call in advance for menu details.  The menu items listed are subject to change without notice!  
The Biblical Times Theater offers two productions:  "The Hallelujah Show" and Jesus Christ - Heaven's Hero.   Both shows include their buffet dinner, state-of-the-art holographic and 3D Technology.  The theater has been newly renovated and built to resemble one of those in Israel.  The Biblical Times Theater hosts special concert dates with other inspirational artists in the Gospel Music Industry.  Coming up May 28-30 the "Hit" Gospel Singing Group, "The Perrys" 

DISCOUNT TICKETS HERE