rain forest adventures discovery zoo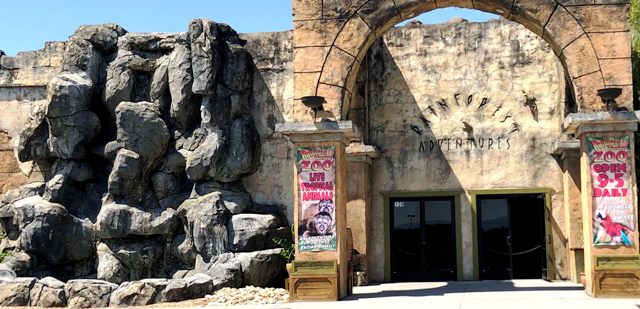 While the Rain Forest Adventures Discovery Zoo is quite unusual, ti's also one of the most exciting and interesting attractions in the Great Smoky Mountains area to visit, especially if exotic animals and creatures interest you!  This all-indoor exhibit has the "feel" of going into the jungle. After a stroll past their 25-foot waterfall, you discover venomous snakes, tortoises, and more.  The zoo houses more than 500 live animal and 100 animal species from forests around the world!  Many different kinds of animals are represented!  It's easy to spend an entire day watching beautiful parrots and other vibrant birds. You'll also discover most every kind of mammal,reptile, and bug. Enjoy lots of exhibits that include turtles, frogs, and hundreds of other tropical and temperate attractions.  Many have been born or hatched while in captivity and raised at the zoo.  
THE RAIN FOREST ADVENTURES DISCOVERY ZOO OCCASIONALLY HOSTS LIVE SHOWS AND FEATURE PROFESSIONAL ZOO KEEPERS!
Every so often there is a free show that the whole family is sure to enjoy! It's the time to meet a real-live zoo keeper who offers amazing knowledge about the animals and is included in the show.  Guests will get to meet and greet these animals as they touch them and at the same time learn a wealth of information about them.  These shows are not a regular part of the tour mainly because they have to be requested organizations such as large school groups. The Rain Forest Adventures Discovery Zoo is one of our nation's best small zoos and attracts millions of visitors each year.  It's the "brain-child of businessman William Lucey whose vision brought this adventure to the Smoky Mountains area in 2001.  Some of the creatures you will see are exotic creatures like the Diamond Back Terrapin, African Hedgehog, Different species that include Lizards Cockroaches, Tarantulas, Scorpions, Frogs, and much much more.  You'll also see more zoo-like animals including monkeys, goats, and porcupines!
The trip to the Rain Forest Adventures Discovery Zoo is a trip worth while!  It's located at 109 NASCAR Drive in Sevierville, TN.  It's open every day from 9:00 A.M. til 5:00 P.M. daily (except for Christmas Day.)  Every size group including school children, seniors, and other civic and special interest organizations are welcome.  Children ages two years old or younger are admitted free. Be sure to explore the Amazon Traders Gift Shop!  It's amazing!  Rain Forest Adventures Discovery Zoo is affiliated with several trade organizations including Zoo and Aquarium Buyers Group.  For more information about this fun-time educational attraction and DISCOUNT TICKETS CLICK HERE!

DISCOUNT TICKETS HERE