SEVIERVILLE  ATTRACTIONS
SEVIERVILLE ATTRACTIONS - AWESOME FAMILY FUN!
 Sevierville, Tn is a city with personality all its own!  That's why the attractions here are different,from most other places you've visited!  There are things to do, and places to see here you won't find anywhere else.  
You'll love the great shows and things to do associated with Sevierville attractions!
TENNESSEE SMOKIES BASEBALL

A vacation to the Smokies during baseball season just wouldn't be complete without a trip to the stadium for a real live Smokies game!  Whether you're competing in one of the stadium's exciting competitions, winning a door prize, or becoming lucky enough to catch the game ball, you're always a winner when you go to the game!   
SCENIC HELICOPTER TOURS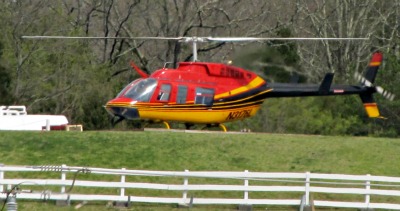 Scenic Helicopter Tours has been a reputable name in the Great Smoky Mountains area for more than 40 years.  This Sevierville attraction offers FFA & National Park Service approved flights with  the largest coverage area!  Scenic Helicopter Tours owns several tour attractions throughout Sevierville and Pigeon Forge.  This attraction has been awarded TripAdvisor's Certificate of Excellence for outstanding  customer service for helicopter rides.
FIVE OAKS RIDING STABLES

Five Oaks Riding Stables is a beautiful 70-acre nature park! The trails are gorgeous and the landscape is exceedingly lovely!  Ride with a view of a cool, mountain lake!   Look on as Mt LeConte stands majestically in the background!  Five Oaks riding trails accommodate riders of every experience level. 
RIVER ROMP TUBES AND KAYAKS RENTALS


If you're going to do some river rompin' there's no better place to do it than the Smokies!  Be ready to splash and play "big time" with plenty of tubing and kayaking!   Enjoy a ride down the peaceful "Little Pigeon River" surrounded by nature at it's best!   River Romp Tubes and Kayaks Rentals makes you feel as though you're deep in the mountains! However, you are only a "hop" away from other exciting attractions in Sevierville. 
LEGACY MOUNTAIN 

ZIP LINES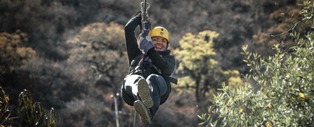 Legacy Mountain Zip Lines is a Sevierville attaction that is the ideal place to get your "Zip On!"  This exciting park sits on more than 400 acres just outside of Pigeon Forge.  Test your skills on seven thrilling zip lines!  These range in length from 450 feet to over 3,400 feet!  Fly above the tree tops at speeds more than 40 mph!  Schedule a 2-1/2 to 3 hour canopy tour to enjoy awesome mountain scenery including extraordinary views of Mt. LeConte and The Pinnacle.  
TREE TOPS ROPES COURSE

Tree Tops Ropes Course offers exciting challenges for every member of the family!  This fun park is filled with thrilling adventures that include zip lines, cargo nets, suspended bridges, tic tac toe bridges and rope climbs on different levels.  Junior climbing levels are available for younger children!  Play games while enjoying plenty of friendly competition.  However you decide to play, this Sevierville attraction is a great way to go!
NASCAR SPEED PARK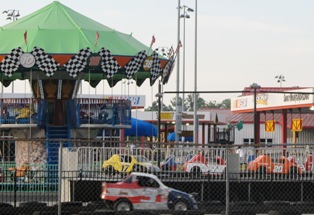 Nascar Speed Park is the perfect place to enjoy a full day in Sevierville!  Enjoy 8 go-cart tracks, a rock climbing wall, children's amusement rides, bumper boats, mini golf, and a huge arcade dome!  Enjoy a delicious meal, or just pick up a snack at the Pit Stop Grill.  This Sevierville attraction offers a wonderful shopping experience on-site in their gift shop loaded with jackets, shirts, caps, and more!   Wrist bands or available so you can enjoy the whole park for one low price!
FOXFIRE MOUNTAIN ADVENTURES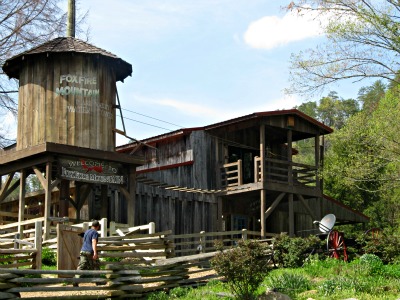 Foxfire Mountain is an exciting Sevierville attraction with lots to see and do!  This Adventure Park was at one time family farm that is now a major attraction!  Foxfire Mountain offers many exciting challenges from the lowest to the highest challenges.  It's a full day of fun with Zip Lining, a swinging bridge, ropes courses, hiking trails, bridges, waterfalls, a wishing well, and plenty of good food!
FOXFIRE MOUNTAIN SWINGING BRIDGE

This unique swinging bridge is an amazing sight to behold!  It's even more fun to walk across!  Foxfire Mountain's Swinging Bridge is considered the longest swinging bridge in America!  Believe it or not, this bridge is longer than a football field.  It's 70 feet above the east prong of the Little Pigeon River.  
SEVIER COUNTY HELICOPTER TOURS

One of the best ways to see the Great Smoky Mountains is by air in a Sevier County Chopper! Several flights are available, so you can choose the one that's right for you.  These flights are normally around 4 minutes to one hours.  Choose from more than eight tours including tours across Pigeon Forge, Gatlinburg, or Clingman's Dome.   Free headsets are available to each passenger.  
MONSTER TRUCK RIDE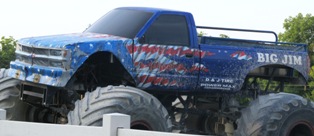 Get ready for the ride of your life in this "one of a kind" Sevierville Attraction!  It's quite an adventure tackling 5 laps of rough terrain in one of these monster vehicles.  Giggle as you go along bouncing in one of the Great Smoky Mountains biggest, and meanest trucks. 
Jun 24, 18 03:37 PM

The hike to Abrams Falls is one of the most lovely in the Great Smoky Mountains National Park.

Jun 16, 18 02:20 PM

Be spirtually blessed and entertained as you enjoy Christian drama in the Smokies

Jun 08, 18 05:52 PM

Action Packed Pigeon Forge Attractions, and Shows