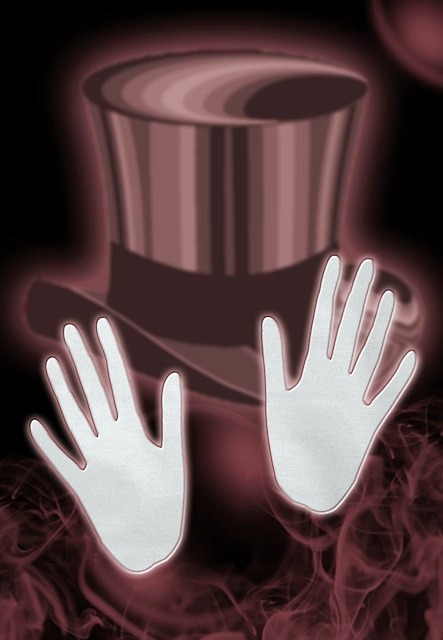 Image by artemtation from Pixabay
WONDERS OF MAGIC

The Wonders of Magic featuring award-winning magician Terry Evanswood is one of the most outstanding magic shows in Pigeon Forge!   It's a must-see attraction for every member of the family!  Both children and adults alike are mesmerized by this world class magician and his magical ability,  grand scale illusions, and Houdini-style escapes.  It's a journey into a "world of wonder" like nothing you've ever seen before!  This show is filled with comedy, music, impersonations, and lots of audience participation.  Afterwards, enjoy a stroll through the "Hall of Magic" Museum with Terry Evansworth as your audio tour guide!  This FREE attraction is a showcase of personal memorabilia belonging to great magicians like Thurston, Blankstone, and the Great Houdini!  There are also famous props, artifacts, costumes, and more!
meet wonders of magic magician terry evanswood
For years, Terry Evanswood has been amazing audiences all over the world!  He's a winner of the highly-acclaimed "Merlin" award which is equivalent to the movies' "Oscar."   He became interested in magic at a very early age. He knew he wanted to become a magician by the time he was 9-years-old.  Terry Evanswood has performed before millions all over the world, as well as being invited twice to perform at the White House in Washington, D.C.  In talking about his most impressive magic trick, Evanswood said, "When I begin my show, I look out and see an audience full of children, parents, and grandparents.  By the time I am half way through the performance, I look out on each and every face I see is an entire audience of kids.  The look of complete awe and wonderment on their faces turn every single person in the room into a child.  That's the most impressive magic trick I can ever hope to perform."   
Terry Evanswood's Wonder of Magic Show is the longest running magic show in the Great Smoky Mountains area!  This critically acclaimed magic and illusions show sends out  a heartfelt message of hope, love and a reminder of the real "Wonders" of the magical world we share.   All performers come out for "Meet and Greet"  after the show. Cameras and videos are not permitted during the show.  Although seating assignments are on a first come first serve basis, your ticket does guarantee you a seat.  The Wonders of Magic Show is located inside The WonderWorks Museum, 100 Music Road, Pigeon Forge, TN.  The Wonders of Magic is included in the WONDERWORKS V.I.P. COMBO PASS!  For more information and DISCOUNT TICKETS PLUS THE VIP COMBO PASS CLICK HERE!

DISCOUNT TICKETS HERE