Sevierville Attractions
SEVIERVILLE ATTRACTIONS - 

AWESOME FAMILY FUN!
 Sevierville, Tn is a city with personality all its own!  That's why the attractions here are different,from most other places you've visited!  There are things to do, and places to see here you won't find anywhere else.  
You'll love the great shows and things to do associated with Sevierville attractions!
SKY HIGH AIR TOURS
It's a trip into the "wild blue yonder" unlike anything you've ever imagined! 
This nostalgic plane ride located inside the Pigeon Forge - Gatlinburg Airport offers the thrill of a lifetime in an open-cockpit Waco Biplane!  Picture yourself sitting in this two-seater plane complete with headset for communicating with the pilot!  Feel the wind at your back as you soar over the mountains taking incredible photos and experiencing awesome views of the Great Smoky Mountains and surrounding areas!  Relive those days of history!  Make everything authentic by renting a helmet, goggles, and silk scarf.  It's the thrill of a lifetime!  Move out of your comfort zone and experience this unique ride as Sky High Air Tours sends you (and another passenger) soaring into an unforgettable one-of-a-kind adventure on a "larger than life" Waco Biplane!
SMOKIES BASEBALL

A vacation to the Smokies during baseball season just wouldn't be complete without a trip to the stadium for a real live Smokies game!  Whether you're competing in one of the stadium's exciting competitions, winning a door prize, or becoming lucky enough to catch the game ball, you're always a winner when you go to the game!  There's plenty of action for everyone, especially the kids!  "Smoky" the mascot always has something going and the fireworks are a real "BLAST!"  Audience interaction and the thrill of the game make Smokies Baseball one of the most exciting things to do in the Smoky Mountains area!  
FIVE OAKS RIDING STABLES

Five Oaks Riding Stables will always hold a special place in my heart!  This 70-acre nature park is where I came to ride Bailey at least once a week for years!  It's beautiful here!  The trails are gorgeous and the landscape is exceedingly lovely!  Ride with a view of a cool, mountain lake!   Look on as Mt LeConte stands majestically in the background!  Five Oaks riding trails accommodate riders of every experience level.  if you're interested in seeing wild creatures, who also have a tenancy to enjoy these trails,  you'll want to schedule your ride in the early morning, or around dusk.  
RIVER ROMP TUBES AND KAYAKS RENTALS

If you're going to do some river rompin' there's no better place to do it than the Smokies!  Be ready to splash and play "big time" with plenty of tubing and kayaking!   Enjoy a ride down the peaceful "Little Pigeon River" surrounded by nature at it's best!   River Romp Tubes and Kayaks Rentals makes you feel as though you're deep in the mountains!  However, you are only a "hop" away from other exciting attractions in Sevierville.  There are also plenty of hotels, restaurants, and more nearby.  
LEGACY MOUNTAIN ZIPLINES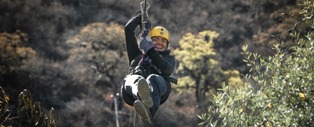 Legacy Mountain Zip Lines is the ideal place to get you "Zip On!"  This exciting park sits on more than 400 acres just outside of Pigeon Forge.  Test your skills on seven thrilling zip lines!  These range in length from 450 feet to over 3,400 feet!  Fly above the tree tops at speeds more than 40 mph!  Schedule a 2-1/2 to 3 hour canopy tour to enjoy awesome mountain scenery including extraordinary views of Mt. LeConte and The Pinnacle.  
TREE TOPS ROPES COURSE
Tree Tops Ropes Course offers exciting challenges for every member of the family!  This fun park is filled with thrilling adventures that include zip lines, cargo nets, suspended bridges, tic tac toe bridges and rope climbs on different levels.  Junior climbing levels are available for younger children!  Play games while enjoying plenty of friendly competition.  
SEVIER COUNTY HELICOPTER TOURS

One of the best ways to see the Great Smoky Mountains is by air!  The best way to get into the air is in a Sevier County Chopper!  Several flights are available, so you can choose the one that's right for you.  These flights are normally around 4 minutes to one hours.  Choose from more than eight tours including tours across Pigeon Forge, Gatlinburg, or Clingman's Dome.  There's also the "Ultimate Tour"  that covers the best scenic route of lakes, mountains, and forests.  Free headsets are available to each passenger.  These reduce noise and make it possible to talk with the pilot. 
MONSTER TRUCK RIDE
Get ready for the ride of your life in this "one of a kind" Sevierville Attraction!  It's quite an adventure tackling 5 laps of rough terrain in one of these monster vehicles.  Giggle as you go along bouncing in one of the Great Smoky Mountains biggest, and meanest trucks.  This attraction is owned by Outdoor Adventures Of The Smokies and offers other exciting things to do including helicopter rides, horseback riding, Hummer tours, ziplines, hot air balloon rides, wild-water rafting, and ATV rides.