BLOOMIN BBQ AND BLUEGRASS MUSIC FESTIVAL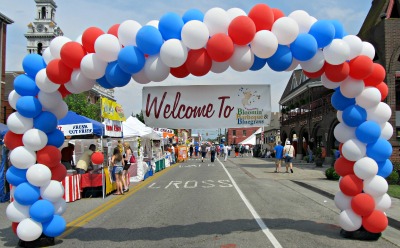 The Bloomin BBQ & Bluegrass Music Festival is one of Sevierville's biggest celebrations!   This  exciting festival features some of the best Barbecue and Bluegrass music around!  If you're a big fan of fresh BBQ, then you've come to the right party!  Barbecue cook teams from around the nation gather right here in the Smokies to prepare some of the best you've ever eaten!  There's competition for the best BBQ And if you're wondering whether or not it's good, just ask some of this crowd! 
 BLUEGRASS MUSIC
When you have food this good, ya gotta "jolt" it down with the kind of music these hills are most famous for!  That good ole, foot stompin' knee slappin' stuff that keeps you rockin' for hours on end!  It's famous Bluegrass tunes performed  by local bands.  One of the festival's most popular events is the Dolly Parton sing-alike contest!  There is always competition, some are good, and some just plain interesting!  You never know what you might see, or hear, however, whatever it is you can believe it's a contest filled with wholesome family fun.  People gather from around the world to hear what just comes natural here in the Great Smoky Mountains!  And the best part is..... these concerts are FREE to the public.
If you're into doing a little pickin' and grinnin' you can get into the act!  The "Late Night Jam" presented by the Dixie Stampede is held on the festival grounds.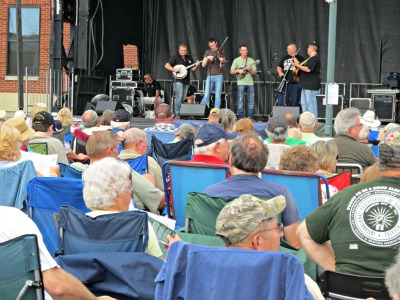 FUN FOLK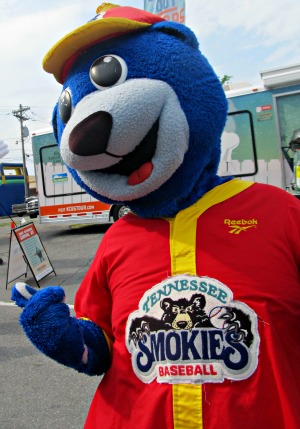 People of all ages love this Spring-fest celebration, but it's the children who enjoy it most! Kids of every age have a great time meeting those famous folk like those pictured below who are forever present here! There's lots to do for the little ones!  The "Kid's Fun Zone" features those "forever popular" balloon blow-ups along with trampoline jumping, and more.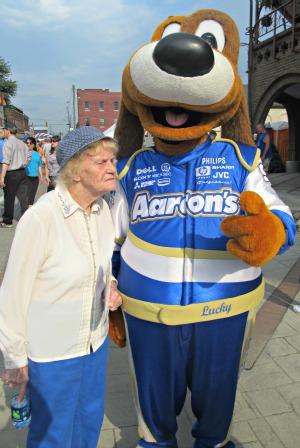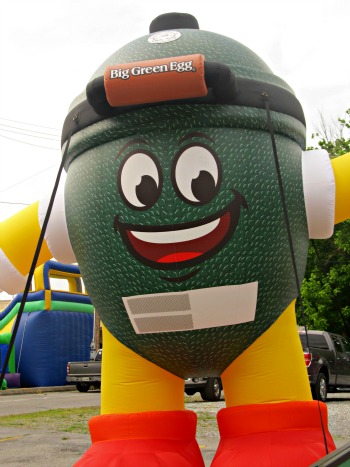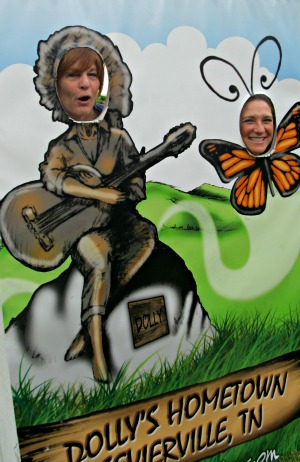 Folks become excited at the idea of being in Dolly Parton's hometown!
CRAFTS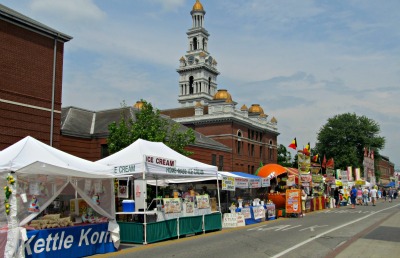 While the music plays, many are shopping down streets aligned with tents filled with beautiful homemade arts, and crafts.  This festival has some of the best crafts people in the area to showcase their talents!  It's a lot of fun just to go browsing and see what unique treasures you may come across!
BLOOMIN BBQ FOOD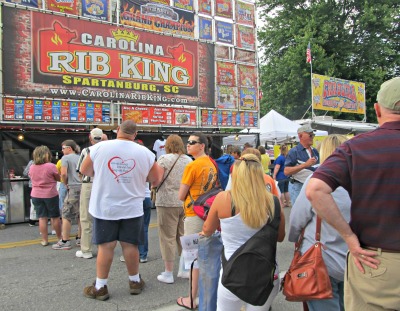 And once you've got "yer belly full"  then it's time to try the many grilled foods, soft drinks, and homemade ice cream that align the festival streets!   Some of the most delicious chicken, steak, pork, and stuff is cooked right along this street!  When you're ready for desserts, funnel cakes, pastries  kettle corn, and most every other kind of "goodies" what you're looking for is right here waiting for ya!
How's 'bout a couple of Smoky Mountain favorites????  Fried green tomatoes, and roasted corn???
However you choose to enjoy Bloomin BBQ and Bluegrass, you can bet you're in for "FLIPPIN" good time!  
Bloomin' Barbecue is a spring celebration that happens every year during the month of May.  ADMISSION IS FREE!  (For information on how to register, or compete in the events, contact the Sevierville Chamber of Commerce at  (865) 453-6411.)
Many exciting things happen in Sevierville!  For an up-to-date look at "What's Happening" go to the Sevierville Chamber of Commerce website at www.seviervillechamber.org/

Jun 16, 18 02:20 PM

Be spirtually blessed and entertained as you enjoy Christian drama in the Smokies

Jun 08, 18 05:52 PM

Action Packed Pigeon Forge Attractions, and Shows

Jun 08, 18 05:12 PM

Smoky Mountain Heartsong is A Christian-based site connecting the beauty of God's creation of the Smokies with things to see and do in the area.