CATALOOCHEE
| | |
| --- | --- |
| | Cataloochee is a valley on the North Carolina side of the Great Smoky Mountains that was considered at one time to be a hunting ground owned by the Cherokee Indians.  The name comes from the word Gadalutsi meaning "stand erect."  Some believe it was named for the tall trees that surround the valley. |
CATALOOCHEE TRAIL
| | |
| --- | --- |
| This trail stretched from Cove Creek all the way over into a small valley in Tennessee known as Cosby.  Overhill towns were connected by Cherokee Middle settlements. In 1810 Bishop Frances Asbury used this trail to hike cross the mountains and go into Tennessee.   By the time European explorers got here, this trail has been worn a foot deep in some places. | |
THE HISTORY
In 1791 came the Treaty of Holston.  Along with it came giving up the claims to this land by the Cherokee Indians to the first Euro-American settlers. These folks spoke fluent Cherokee and remained on friendly terms with them.  As a result, the Indians continued to hunt and fish on this land throughout the 19th century.
THE CHURCH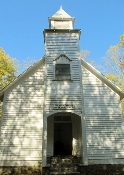 The Little Baptist Church was built during the year of 1889.  This church was also referred to as the Ola Baptist Church.  Later came a belfry built by Will Messer.  It included a bell donated by William Hannah.   There's a spiritual feel as you enter the church.  It's easy to imagine the old time religion as folks worshiped our risen Savior. An old Bible still sits upon the podium where the pastor once stood. 
THE CAMPGROUND
The campground here offers several types of camping sites.   For the backpacker there's BACKCOUNTRY packing that requires hiking for several miles to the site.  FRONTCOUNTRY is camping near the car.  This campground has running water, toilets, fire grates, and picnic tables. HORSE CAMPS are small campgrounds you drive into.  They offer hitch racks for horses, and primitive camping facilities.  GROUP CAMPGROUNDS are located in the frontcountry and offer accommodations for groups of eight or more.
THE ELK
 The area celebrated a big year in February 2001 when 25 elk were reintroduced and released into the area. The Rocky Mountain Elk Foundation provided $700.000 of the $1.1 million cost.  The elk once lived in Southern Appalachia, but due to over hunting and loss of habitat they did not survive. Now these wild animals roam the valley where people flock to see them mainly in the Spring and Fall.  There was a calving season among the elk in 2011 which brought the population to more than 130 Elk.  
Read more about the release of the Elk and their history at Romantic Asheville.com
The Smoky Mountains of North Carolina are extraordinarily beautiful during every season of the year! Driving over the winding roads that take you to Cataloochee is an experience within itself!. Arriving into this historical valley where the Elk run free make this area a sight to see!
Jun 16, 18 02:20 PM

Be spirtually blessed and entertained as you enjoy Christian drama in the Smokies

Jun 08, 18 05:52 PM

Action Packed Pigeon Forge Attractions, and Shows

Jun 08, 18 05:12 PM

Smoky Mountain Heartsong is A Christian-based site connecting the beauty of God's creation of the Smokies with things to see and do in the area.