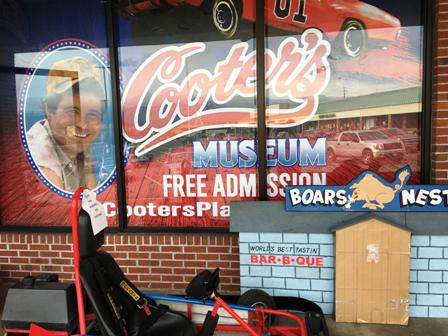 10-4 FOR SHORE!!  Cooter's Place is rockin' the Smokies "Dukes of Hazzard" style!  Ben Jones whose character was "Crazy Cooter" on the hit TV show back in the 80's owns his very own attraction/museum in Pigeon Forge, TN.  Everybody whose familiar with the "zany" family sit-com that aired from 1979-1985 loves to visit here!  Fans from all over the world are amazed by the huge collection of props, costumes, and memorabilia, and more  that were used during the original TV shows.  Cooter's Place is home to one of the country's most famous cars - The General Lee!  Most every person who walks through the door has to have their photo taken with the legendary bright orange 1969 Dodge Charger.  
Shopping  Cooter's Place is both interesting and fun!  You never know what you'll find browsing through the racks of clothes, hats, posters, jewelry, souvenirs, and more.  If you're into waving the Confederate Flag, you'll definitely want to check out the huge assortment you're going to find.  Kids particularly enjoy coming here because of all the t-shirts, toys, school supplies, etc.. made just for them.  

 The best way to end an exciting day at Cooter's Place is to go through the Dukes of Hazzard Museum!  It's absolutely FREE and it's filled with loads of interesting paraphernalia from the show!  See authentic scripts, costumes, and other actual props that were used.  Keep your eyes and ears open!!  Sometimes you can meet the actual actors who performed in the show including "Crazy Cooter" himself, Ben Jones!  Other cast members have been known to drop in from time to time!  
Cooter's Place  is located  at The Shops of Pigeon Forge  in Pigeon Forge, TN.  The address is 177 East Wears Valley Rd Ste 23.  Be sure and check them out!  You'll be glad you did!