SMOKY MOUNTAIN FIREFLY
| | |
| --- | --- |
| | So why do thousands of tourists flock to the Great Smoky Mountains every year to see insects mate??  Because it's a show worth watching!   These little creatures perform a ritual as never seen before!  There are literally thousands that light.  Once they get started, they do an amazing synchronized show in lightning patterns that becomes an amazement of nature that reaches beyond the imagination!  |
There's nothing more beautiful on a starry summer night than the firefly lighting through the trees.  It's a reminder of hundreds, or maybe even thousands of twinkling lights at Christmas.
 First, twinkling lights are dancing. Then,  all at once it's dark!  Then is an almost perfect synchronization they light again!  It's really not something that can be captured.  It's a natural wonder you must experience for yourself.  It's amazing to see the beauty of God's handiwork come alive by thousands of little bugs with dazzling lights!  Even in my own front yard, I refer to this lovely lightning as "God's Christmas tree!" 
| | |
| --- | --- |
| | Here in the Smokies, we refer to these little creatures as "Lightning Bugs."  My favorite part of a summer evening is sitting on the front porch watching the lightning bug rise from the ground. They  appear to delight the entire world with their radiant little flashes before disappearing into the trees. |
The Firefly is a special little guy here in the Smokies!  That's because every year between the third week of May and the third week of June they celebrate their mating season here in the little town of Elkmont! There are only two places in the world where they gather!  The Great Smoky Mountains National Park, and Southeast Asia.
FIREFLY MATING?
So what's going on here exactly?  It's been said that the male flies around flashing while the female sits in one spot and flashes in response.  In so doing, they manage to figure out who their mate is. Why the lights synchronize - nobody knows!  It's a "God thing!"
| | |
| --- | --- |
| Photo Courtesy: Malia Lane | If you're planning your Smoky Mountain Vacation during late spring, or early summer, you might just catch the lightning bug in action.  However, you need to plan early to get ahead of the crowds.  Parking passes are sold at Recreation.gov in the form of a lottery.  If you win, you will be notified and charged a fee of $20.00 , along with an additional $2.00 cash fee per person to ride the shuttle.. The lottery for 2018 is already closed.  For more information, call Sugarlands Visitor Center at (865) 436-1200 for exact times and dates. |
THE LOTTERY FOR THE 2018 FIREFLY EVENT IS NOW CLOSED: Event Dates June 7-14, 2018
INFORMATION FROM RECREATION.GOV
Results of the lottery will be e-mailed on May 9, 2018. Please check your e-mail or sign into your account for results and important parking pass information after that time.
The dates for the 2018 shuttle operating system are TBD. During this time, in order to protect the fireflies and their habitat, the park closes the Elkmont area in the evening except for access by the park shuttle system and registered Elkmont campers. Passes for the shuttle system are only available to lottery winners.
Lottery winners will be charged $20.00 and awarded a parking pass.
Your e-mail address will be used for lottery and parking pass communications. Please check your 'spam' or 'junk mail' folder if you do not see an e-mail on May 9. You may also sign into your account on or after May 9 for results.
The number of applicants is typically much greater than the number of parking passes available and not all applicants receive a parking pass.
Like many seasonal events, the timing of the annual display of synchronized fireflies is influenced by environmental conditions, mainly climate, which are impossible to accurately predict in advance. Park biologists will monitor conditions through April in an effort to predict when the display will peak; however, conditions which affect the intensity of the ''shows'' from year to year are beyond the control of the National Park Service.
Because of the popularity of this event and to protect the fireflies and their habitat during the eight-day peak firefly display period, the Elkmont area will be closed at night except for access by the park shuttle system and registered Elkmont campers.
Lottery winners must occupy the vehicle and must show photo identification, which matches the name of the lottery winner, before the vehicle is admitted to the parking area.
Each parking pass is valid only for the specified date. An arrival time between 6:30 p.m. and 7:30 p.m. (ET) will be assigned.
The shuttle may be cancelled if weather presents a threat to public safety.
There are no refunds, transfers, rain checks, or changes to the parking pass.
The shuttle fee is $2 per person, roundtrip (cash only). Please bring exact change for the shuttle fee.
Information about how to enjoy the event and help protect the fireflies and their habitat is available at this link: Light Show Etiquette.
Once you arrive, you receive printed information.  You'll also get red cellophane to cover your flashlight, camera, phone, etc...(anything that may cause bright light) because brightness is disruptive to the firefly. 
| | |
| --- | --- |
| | If you enjoy camping, Elkmont has a huge campground!  It's one of the area's most popular camp sites!    There are glorious views of the mountains, and full service accommodations complete with a stream perfect for tubing! |
REMINDER - Take your camera!  Make sure you've got the good one!  You'll need a good zoom because the lights are tiny, however, they're still brilliant!  In the beginning you see a few blinks! The lights begin to grow...and after awhile, the show goes into full swing!
YOU'RE GOING TO NEED....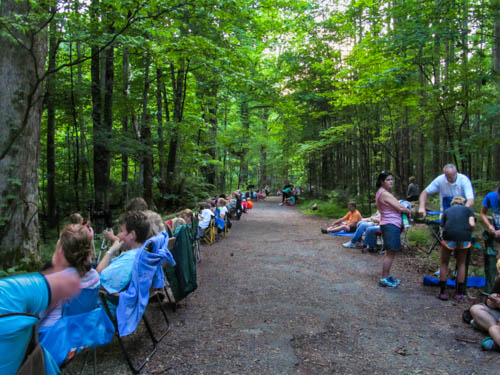 Photo Courtesy: Malia Lane
Comfortable Lounge Chair
Snacks and drinks (no alcohol allowed)
Insect Repellant
A light, warm jacket (Temps drop after sundown)
A good photo/video camera
At least three to six hours to enjoy the event
For more information about this amazing light show, click here!
http://www.nps.gov/grsm/naturescience/fireflies.htm
Jun 16, 18 02:20 PM

Be spirtually blessed and entertained as you enjoy Christian drama in the Smokies

Jun 08, 18 05:52 PM

Action Packed Pigeon Forge Attractions, and Shows

Jun 08, 18 05:12 PM

Smoky Mountain Heartsong is A Christian-based site connecting the beauty of God's creation of the Smokies with things to see and do in the area.