Pottery is one of the oldest, and widespread of the decorative arts.  The  Arts & Crafts Community is a place to find unique pottery items that may be hard to find anywhere else!  Each shop is filled with unusual designs and quality workmanship.   Every item appears to have its own style and personality!  Radiant colors painted over a smooth surface brings forth a lustrous shine.  Most anything can be found throughout the Arts and Crafts Community.  Many local artists own shops to keep you browsing for hours!  Choose from homemade quilts, leathers, candles, weaving, carvings, whittling, and clothing - just to name a few!  It's exciting to watch these fine craftsmen work.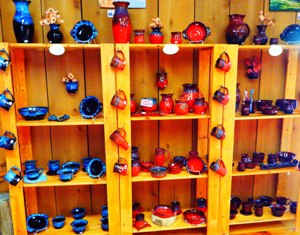 This community is the perfect place to find that exclusive, one-of-a-kind gift for the person on your list who has everything!  After an exciting day of shopping, (and it's easy to spend a whole day here) there are great places to eat!  From Cafes to bed and breakfasts, and candy shops, you'll enjoy visiting venues that are both interesting and impressive! 

Admission is absolutely FREE!  For more than 75 years, people have been coming to see what is now known as the largest group of independent artists and craftsmen in America!  THE GLADES OF GATLINBURG ARTS & CRAFTS COMMUNITY.